This content originally appeared on @mdo and was authored by Mark Otto

Without a doubt the top feature I use in Chrome now is the ability to pin tabs in my windows. I like to keep a few websites open all day, and instead of creating Fluid instances for them all, I just pin them.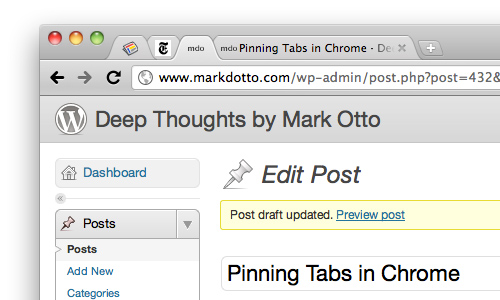 Here's why you should love them, too:
Tabs you like to keep open all the time—like email, streaming media, or news sites—can stay open without interfering in your daily workflow.
If you quit Chrome with pinned tabs still open, relaunching the app will restore them.
Pinned tabs help reinforce the policy of having a good favicon that extends your brand so visitors associate the tab with your service.
You can configure apps from the Chrome Web Store to open as pinned tabs instead of regular tabs.
And lastly, any tab can be pinned, not just apps—so go hog wild.
Pinned tabs are small and out of the way, but positioned in such a manner that you couldn't miss them when you decide to look for them. It's a nice little value add from the Chrome team and a solid way to keep users engaged with already awesome services like Gmail, Google News, and more.
As a side note, it'll be interesting to see if Firefox or Safari follow suite given the progress Chrome has made in browser share and rapid development pace.

This content originally appeared on @mdo and was authored by Mark Otto

Print
Share
Comment
Cite
Upload
Translate
APA
Mark Otto | Sciencx (2023-12-05T14:59:07+00:00) » Pinning tabs in Chrome. Retrieved from https://www.scien.cx/2011/01/13/pinning-tabs-in-chrome/.
MLA
" » Pinning tabs in Chrome." Mark Otto | Sciencx - Thursday January 13, 2011, https://www.scien.cx/2011/01/13/pinning-tabs-in-chrome/
HARVARD
Mark Otto | Sciencx Thursday January 13, 2011 » Pinning tabs in Chrome., viewed 2023-12-05T14:59:07+00:00,<https://www.scien.cx/2011/01/13/pinning-tabs-in-chrome/>
VANCOUVER
Mark Otto | Sciencx - » Pinning tabs in Chrome. [Internet]. [Accessed 2023-12-05T14:59:07+00:00]. Available from: https://www.scien.cx/2011/01/13/pinning-tabs-in-chrome/
CHICAGO
" » Pinning tabs in Chrome." Mark Otto | Sciencx - Accessed 2023-12-05T14:59:07+00:00. https://www.scien.cx/2011/01/13/pinning-tabs-in-chrome/
IEEE
" » Pinning tabs in Chrome." Mark Otto | Sciencx [Online]. Available: https://www.scien.cx/2011/01/13/pinning-tabs-in-chrome/. [Accessed: 2023-12-05T14:59:07+00:00]
rf:citation
» Pinning tabs in Chrome | Mark Otto | Sciencx | https://www.scien.cx/2011/01/13/pinning-tabs-in-chrome/ | 2023-12-05T14:59:07+00:00
https://github.com/addpipe/simple-recorderjs-demo