This content originally appeared on Laura Kalbag's Blog Posts and was authored by Laura Kalbag

The lovely people at Dare conference have released the video of my talk, My Secret is Honesty. It's pretty much a longer, talk-version of my latest column on A List Apart, "Open for Business."
I'm not going to embed it here, because I want you to go to the website to watch it. The reason is that there's loads of great talks on there, and in order to help support Dare conference for next year, they're taking donations. If you enjoy any of the videos, please donate. Dare didn't make any money this this, but it was a phenomenal, heartwarming and groundbreaking event. I can't wait for next year's!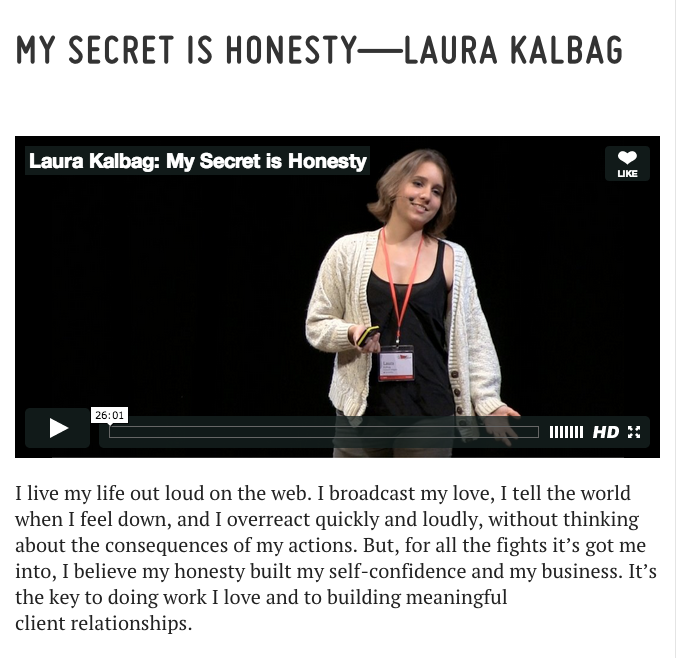 Read the original post, 'My Secret is Honesty talk video'.

This content originally appeared on Laura Kalbag's Blog Posts and was authored by Laura Kalbag

Print
Share
Comment
Cite
Upload
Translate
APA
Laura Kalbag | Sciencx (2023-10-01T19:57:27+00:00) » My Secret is Honesty talk video. Retrieved from https://www.scien.cx/2013/10/21/my-secret-is-honesty-talk-video/.
MLA
" » My Secret is Honesty talk video." Laura Kalbag | Sciencx - Monday October 21, 2013, https://www.scien.cx/2013/10/21/my-secret-is-honesty-talk-video/
HARVARD
Laura Kalbag | Sciencx Monday October 21, 2013 » My Secret is Honesty talk video., viewed 2023-10-01T19:57:27+00:00,<https://www.scien.cx/2013/10/21/my-secret-is-honesty-talk-video/>
VANCOUVER
Laura Kalbag | Sciencx - » My Secret is Honesty talk video. [Internet]. [Accessed 2023-10-01T19:57:27+00:00]. Available from: https://www.scien.cx/2013/10/21/my-secret-is-honesty-talk-video/
CHICAGO
" » My Secret is Honesty talk video." Laura Kalbag | Sciencx - Accessed 2023-10-01T19:57:27+00:00. https://www.scien.cx/2013/10/21/my-secret-is-honesty-talk-video/
IEEE
" » My Secret is Honesty talk video." Laura Kalbag | Sciencx [Online]. Available: https://www.scien.cx/2013/10/21/my-secret-is-honesty-talk-video/. [Accessed: 2023-10-01T19:57:27+00:00]
rf:citation
» My Secret is Honesty talk video | Laura Kalbag | Sciencx | https://www.scien.cx/2013/10/21/my-secret-is-honesty-talk-video/ | 2023-10-01T19:57:27+00:00
https://github.com/addpipe/simple-recorderjs-demo