This content originally appeared on Laura Kalbag's Blog Posts and was authored by Laura Kalbag

Yesterday I gave a talk at KiwiParty in Strasbourg. KiwiParty is a lovely conference, but all of the speakers spoke in French, to the French audience. Except me. I speak a little bit of (A-Level) French, but I certainly couldn't give a talk in French.
Designing for accessibility
My talk was about Designing for accessibility. I wouldn't be setting a very good example if I was to give a talk about accessibility which was hard to understand for 99% of the audience. I talked to my friend, Stéphanie Walter, one of the organisers of KiwiParty, about getting my slides translated into French. Stéphanie very generously offered to translate my slides, on top of all the other hard work she was doing with organising the conference and creating the lovely (and very accessible!) website.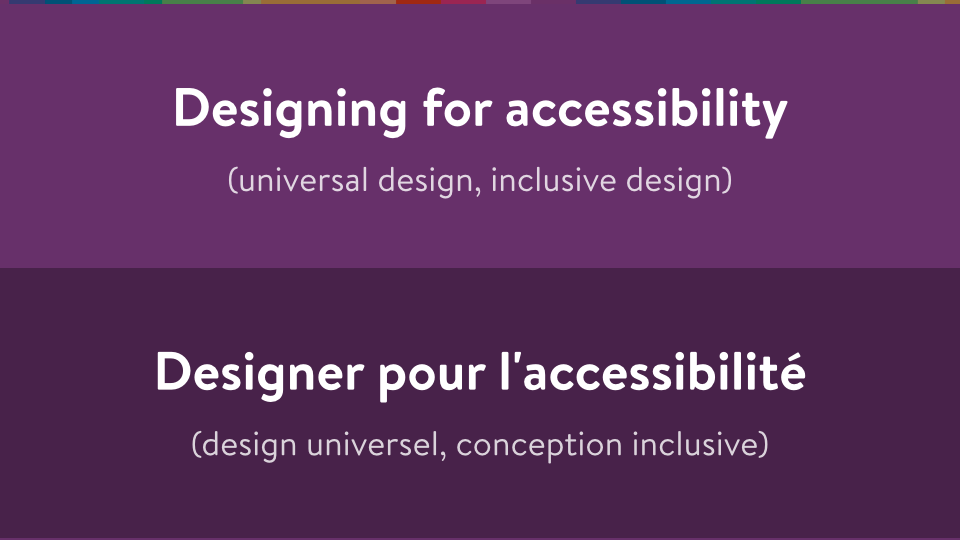 The slides
My slides support the information in my talks. I present the main points that I'm trying to cover in text, and then talk about the context of those points as I show the slides. I didn't get translations for the examples that I showed, as the detail I discuss the examples depends on the audience on the day, but overall I had 85% of my slides translated.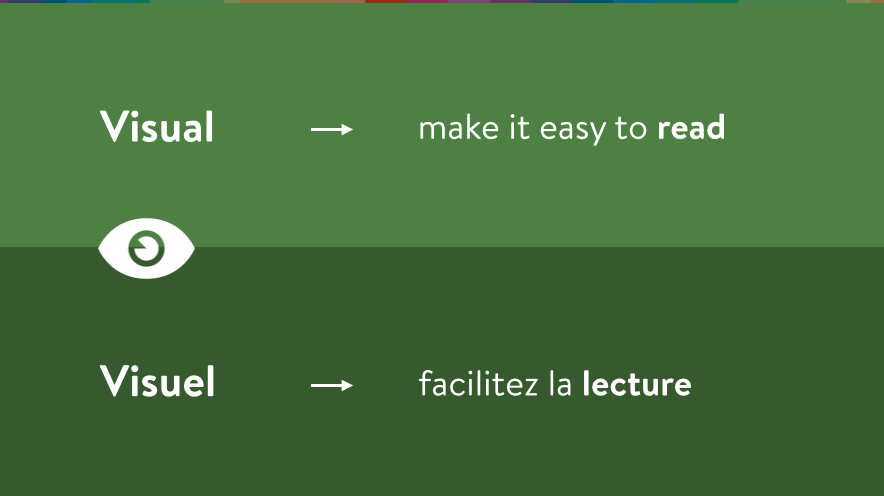 It was tricky to fit the translated text into the slide designs. Usually I have as little text as possible on a slide, and French can be a lot longer than the English equivalent, so it took a while to ensure the slides were all readable on a projected screen.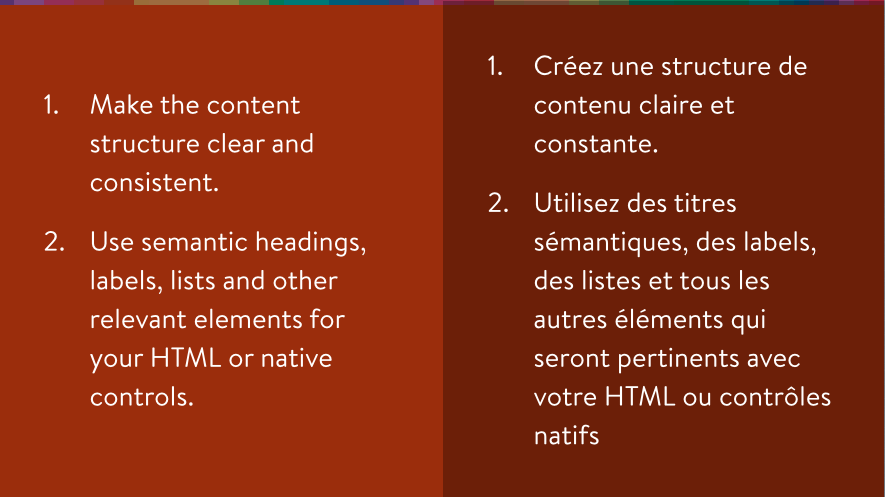 Now I had a talk which would be easy to understand for English speakers, and French speakers who would find it harder to follow my English, the slides provided the backup information.
Why?
Accessibility isn't just about wheelchairs or screen readers. Accessibility is about optimising the experience to include as many people as possible. With the French translations of my slides, I hope I was able to do just that.
---
Sidenote: The French designers and developers were mostly very knowledgeable about accessibility. I was introduced to a great resource for accessibility: opquast.com. It's in English as well as French. Thanks KiwiParty!
5 comments
Read the original post, 'Accessibility en France'.

This content originally appeared on Laura Kalbag's Blog Posts and was authored by Laura Kalbag

Print
Share
Comment
Cite
Upload
Translate
APA
Laura Kalbag | Sciencx (2023-03-27T03:17:26+00:00) » Accessibility en France. Retrieved from https://www.scien.cx/2014/06/14/accessibility-en-france/.
MLA
" » Accessibility en France." Laura Kalbag | Sciencx - Saturday June 14, 2014, https://www.scien.cx/2014/06/14/accessibility-en-france/
HARVARD
Laura Kalbag | Sciencx Saturday June 14, 2014 » Accessibility en France., viewed 2023-03-27T03:17:26+00:00,<https://www.scien.cx/2014/06/14/accessibility-en-france/>
VANCOUVER
Laura Kalbag | Sciencx - » Accessibility en France. [Internet]. [Accessed 2023-03-27T03:17:26+00:00]. Available from: https://www.scien.cx/2014/06/14/accessibility-en-france/
CHICAGO
" » Accessibility en France." Laura Kalbag | Sciencx - Accessed 2023-03-27T03:17:26+00:00. https://www.scien.cx/2014/06/14/accessibility-en-france/
IEEE
" » Accessibility en France." Laura Kalbag | Sciencx [Online]. Available: https://www.scien.cx/2014/06/14/accessibility-en-france/. [Accessed: 2023-03-27T03:17:26+00:00]
rf:citation
» Accessibility en France | Laura Kalbag | Sciencx | https://www.scien.cx/2014/06/14/accessibility-en-france/ | 2023-03-27T03:17:26+00:00
https://github.com/addpipe/simple-recorderjs-demo