This content originally appeared on Freedom Scientific Blog and was authored by Low Vision

As you age, your eyes and vision change. The pupil reduces in size, muscles weaken, and the lens starts to stiffen which may cause blurred vision or trouble focusing. The reduced pupil size and the weakened eye muscles allow less light in and you may notice a need for increased or focused lighting. Glare sensitivity and a longer period required for adjusting to bright light may also be a noticeable change as you get older.
Three of the most significant ways to make reading, writing, and crafts easier is through magnifying aids, glare control lenses, and effective lighting solutions.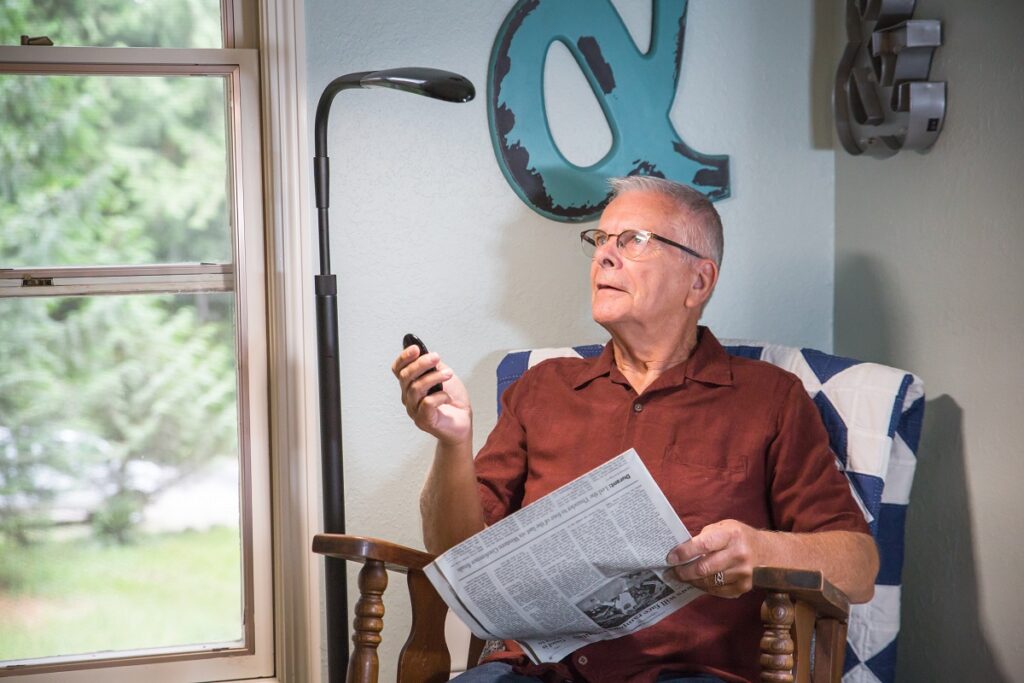 Stella Lighting solutions have an immediate, direct impact on individuals with Low vision. Stella Lighting is designed to give you more overall light and greater control over the intensity of the light. "The Stella lamp is an impeccably designed product. The ability to adjust both color temperature and total intensity makes it extremely helpful for our patients with visual impairment, and we recommend it often," says David Lewerenz, OD, FAAO.
One Lamp, Three Colors
The Stella Lighting not only offers control over the intensity of the light but the color of the lighting as well, allowing you to dim the light to ten different brightness settings, while still offering the Tri-Spectrum technology. Different times of day or activities may require different light color.
Warm: The warm light spectrum is comparable to conventional light bulbs with a slight yellow hue. It is a comfortable light that is great for reading, hobbies, crafts, or as general lighting throughout the home.
Natural: This crisp, brilliant white, provides the maximum light output and is just like being outside under the sun. This light setting is great for those who require a bright light to make reading, sewing, or detail-oriented crafts easier.
Cool: This setting has a cool blue tint and helps reduce eye strain in the evening. This soft light is ideal for late night projects or reading.
Designed with You in Mind
Books, crafts, sewing, and hobbies all become clearer with Stella Lighting. Whether you are reading in your favorite chair, sitting at your sewing desk, or working in the shop on your latest project, there is a Stella Lamp to meet your needs.
Floor Lamp: Bring the unique Stella advantages to your favorite chair and other areas of the home. The steel gooseneck allows the perfect combination of stability and flexibility so the head can be easily maneuvered and held in almost any position. The wireless remote gives you control of the brightness and color from anywhere in the room.
Task Lamp: The weighted base keeps the lamp steady and the flexible gooseneck allows the light to be rotated in nearly every direction. The tactile raised touch pad is located on the base and enables you to adjust the light color and brightness settings.
Clamp Lamp: The Stella Edge is designed for maximum durability. The Edge's patented design has a clamping mechanism which allows it to attach to any surface between .5″ and 2.5″ thick. The flexible neck allows you to adjust the lamp to focus light on your projects and crafts.
Light up the New Year with a lighting solution that will adjust to your changing vision needs, keep you actively participating in activities you enjoy, and focus the light where you need it the most. Not sure what lighting solution is best for your vision and desired activities? Connect with us!

This content originally appeared on Freedom Scientific Blog and was authored by Low Vision

Print
Share
Comment
Cite
Upload
Translate
APA
Low Vision | Sciencx (2023-03-26T21:51:35+00:00) » How Effective is Lighting for People with Low Vision?. Retrieved from https://www.scien.cx/2021/01/06/how-effective-is-lighting-for-people-with-low-vision/.
MLA
" » How Effective is Lighting for People with Low Vision?." Low Vision | Sciencx - Wednesday January 6, 2021, https://www.scien.cx/2021/01/06/how-effective-is-lighting-for-people-with-low-vision/
HARVARD
Low Vision | Sciencx Wednesday January 6, 2021 » How Effective is Lighting for People with Low Vision?., viewed 2023-03-26T21:51:35+00:00,<https://www.scien.cx/2021/01/06/how-effective-is-lighting-for-people-with-low-vision/>
VANCOUVER
Low Vision | Sciencx - » How Effective is Lighting for People with Low Vision?. [Internet]. [Accessed 2023-03-26T21:51:35+00:00]. Available from: https://www.scien.cx/2021/01/06/how-effective-is-lighting-for-people-with-low-vision/
CHICAGO
" » How Effective is Lighting for People with Low Vision?." Low Vision | Sciencx - Accessed 2023-03-26T21:51:35+00:00. https://www.scien.cx/2021/01/06/how-effective-is-lighting-for-people-with-low-vision/
IEEE
" » How Effective is Lighting for People with Low Vision?." Low Vision | Sciencx [Online]. Available: https://www.scien.cx/2021/01/06/how-effective-is-lighting-for-people-with-low-vision/. [Accessed: 2023-03-26T21:51:35+00:00]
rf:citation
» How Effective is Lighting for People with Low Vision? | Low Vision | Sciencx | https://www.scien.cx/2021/01/06/how-effective-is-lighting-for-people-with-low-vision/ | 2023-03-26T21:51:35+00:00
https://github.com/addpipe/simple-recorderjs-demo