This content originally appeared on Laura Kalbag's Blog Posts and was authored by Laura Kalbag

Just over a year ago, I was in a country I'd never visited, about to give two talks I'd never given before to two large, paying audiences in the space of three days at Future Insights Live. I had only given a couple of talks to small audiences before. It was one of the scariest things I'd ever done.
A helping hand
I'd seen Aral Balkan speak a few times before. His talk at Future Of Web Design had blown me away. I recommended him to my friends who organising The Big M as a must-have speaker. On the first of the five days at Future Insights, Aral kindly offered to go through my talks with me. In just one hour, I had learned so much, and my confidence increased hugely. My talk the next day went down really well. We repeated the process the following day, my next talk was also a success. I'd done it, I started getting more and more speaking offers.
Not just me
Over this last year I've learned I'm not so special. In fact, I've seen and heard about Aral giving speaker training to many people. Some have gone over their talks a few times, some have had last-minute reassurances. Everyone has come out happier and more confident with their talks.
Lots to learn
The things I've learned from Aral haven't just been "how to give a talk". There were so many facets I'd never even considered before. How do I walk on the stage? How do I finish my talk? How do I set up the stage? How do I interact with the audience afterwards without just being awkward?
It's never about over-thinking my talk, or treating my talk like I'm giving a world-class performance. It's about being prepared.
We're all different speakers
Aral never tried to make me speak like him. He's naturally very funny on stage, his jokes have audiences roaring. I'm not like that. I can never remember the punchline and have a unique talent for making jokes really uncomfortable. Aral taught me how to improve my own style, working on basic principles that apply to everyone, and how to fight awful bouts of nerves and anxiety.
The masterclass you shouldn't miss
Aral didn't ask me to write this post. If he did, I would've said no, I'm contrary like that… I wanted to tell you about the masterclass Aral is holding in June, where you can benefit from all the things he's taught me, but in the space of one day.
A lot of people ask my advice on speaking, and honestly, I just pass on what Aral's taught me. The best piece of advice I can give you is to take this masterclass. It's very affordable (I say this as a wary freelancer!) And I promise it will make a huge difference to your talks.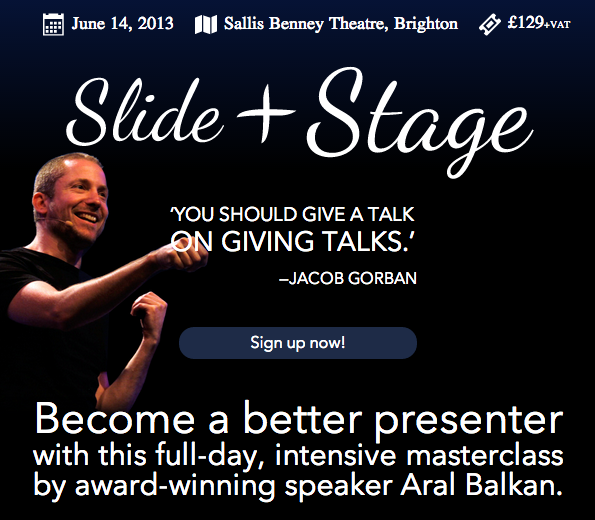 7 comments
Read the original post, 'Learning to speak'.

This content originally appeared on Laura Kalbag's Blog Posts and was authored by Laura Kalbag

Print
Share
Comment
Cite
Upload
Translate
APA
Laura Kalbag | Sciencx (2023-03-24T04:06:29+00:00) » Learning to speak. Retrieved from https://www.scien.cx/2013/04/11/learning-to-speak/.
MLA
" » Learning to speak." Laura Kalbag | Sciencx - Thursday April 11, 2013, https://www.scien.cx/2013/04/11/learning-to-speak/
HARVARD
Laura Kalbag | Sciencx Thursday April 11, 2013 » Learning to speak., viewed 2023-03-24T04:06:29+00:00,<https://www.scien.cx/2013/04/11/learning-to-speak/>
VANCOUVER
Laura Kalbag | Sciencx - » Learning to speak. [Internet]. [Accessed 2023-03-24T04:06:29+00:00]. Available from: https://www.scien.cx/2013/04/11/learning-to-speak/
CHICAGO
" » Learning to speak." Laura Kalbag | Sciencx - Accessed 2023-03-24T04:06:29+00:00. https://www.scien.cx/2013/04/11/learning-to-speak/
IEEE
" » Learning to speak." Laura Kalbag | Sciencx [Online]. Available: https://www.scien.cx/2013/04/11/learning-to-speak/. [Accessed: 2023-03-24T04:06:29+00:00]
rf:citation
» Learning to speak | Laura Kalbag | Sciencx | https://www.scien.cx/2013/04/11/learning-to-speak/ | 2023-03-24T04:06:29+00:00
https://github.com/addpipe/simple-recorderjs-demo