This content originally appeared on The Keyword and was authored by Peentoo Patel

As 2021 begins, we're still adapting to new ways of life, whether it's working from home or streaming the latest TV shows and movies directly from our living rooms. In this new environment, businesses are also learning how to achieve goals while working more efficiently across distributed workforces, and it's no different when it comes to publishers' video monetization goals. As viewers spent 57% more time streaming video content this past year, video publishers and TV programmers adjusted quickly to measuring ad performance across screens to understand how to meet their goals, grow revenue and deliver a good viewing experience. 
However, video and over-the-top (OTT) measurement hasn't always been easy due to the variety of devices and platforms, the lack of standardized signals and the reliance on traditional TV data and reservations. To help our partners more efficiently and effectively measure video and OTT inventory performance, we're launching a suite of new video-first measurement and reporting tools in Google Ad Manager so they can understand what's working best and earn more money.
Better understand your true video inventory availability
Video True Opportunities Reporting enables partners to understand the true inventory potential of every commercial break using time-based metrics that are built specifically for video. With this feature, you can easily define the ad duration which you consider to be an ad opportunity, let's say 30 seconds. Then, you can report on the total number of ad opportunities in a video stream, the number of capped opportunities based on your max ads per pod settings, and the number of matched opportunities that were filled by direct or programmatic demand sources. Video True Opportunities will only measure commercial breaks that viewers actually watch, automatically adjusting for user drop-off that occurs on on-demand content. With a more accurate view into inventory availability and fill rates, you can understand mid-break drop-offs, unfilled ad time, and slate in live broadcasts, so that you can better optimize your video inventory.
You can also use this report with Ad Break Templates, a feature that enables you to use granular advertising rules to create a customized commercial break, so that you can understand ad opportunities based on how you sell your ads. Easily break down Video True Opportunities metrics by custom spots to see how your inventory is performing—whether it's programmatic, sponsorships or inventory-shared ads. This information can help you determine where user drop-off or empty ad breaks have occurred, optimize your max ad settings and understand where fill rates may be low so that you can improve ad break performance and monetize more effectively across all of your demand partners.
We've also made enhancements to TV Forecasting that allow partners to more accurately project available video inventory and account for seasonality complexities like those caused by the unpredictable nature of COVID-19. First, we've integrated Video True Opportunities metrics into TV Forecasting, like ad duration and ad opportunities, so that partners can use these new data points to understand future inventory availability. Next, partners can now customize and adjust ad requests based on reference points. For example, if you're planning to premiere a new season of an existing show in January 2021, but the previous season premiered in November 2019, you can tell Ad Manager to use the traffic spikes or ad request characteristics from the 2019 premiere as a reference point instead of the previous year's January to more accurately inform the forecasted inventory availability in 2021. 
Explore, measure and package your inventory based on content insights
Content has become an even more critical inventory signal across OTT devices due to device fragmentation. To give partners a new content-aware way to explore, measure and package their video inventory, we're making the Video Content Explorer UI more widely available and adding new insights cards. The new audience insights card offers demographic breakdowns of content based on your first-party audience data so that you can understand what audiences are watching your content and more effectively value your inventory. Additional insights cards also reveal details into the top devices your content was viewed on, which content is driving the highest impressions, and the sell-through performance of ads on your content. This information can help you optimize your ads across devices and demographics, and understand where there are opportunities to increase monetization of specific content. Moving forward, this screen will be Ad Manager's primary content hub, where we'll add more content packaging capabilities, audience insights sources and monetization features.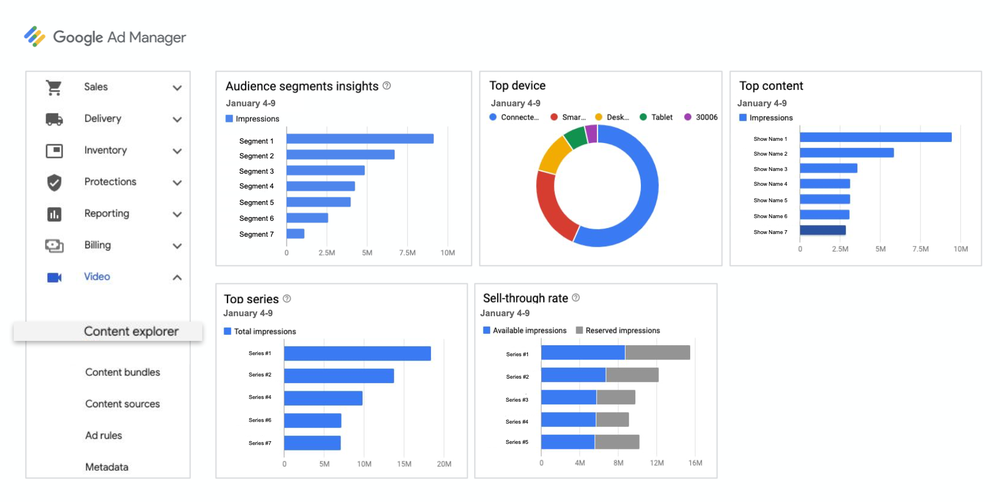 Increase OTT impression value with Nielsen Digital Ad Ratings 
Part of what makes TV content so valuable is the fact that it's often a shared viewing experience, with families and friends viewing together in the same room. To help our partners accurately measure this viewership, we've integrated with Nielsen's Digital Ad Ratings product suite, which provides OTT measurement of select platforms that is inclusive of co-viewing. Using Nielsen data, you can measure and receive credit for multiple impressions on your OTT inventory that reflects co-viewing. Additionally, using Google Ad Manager's demographic pacing features, it's possible to have your line item impression goals update automatically based on Nielsen in-demo rates and advertiser requirements.

As we look at the year ahead, we'll continue building even more advanced video measurement and reporting features, like automated video notifications, new insights cards and video content packaging, so that you can have more actionable insights and sell your video inventory as efficiently as possible. 

This content originally appeared on The Keyword and was authored by Peentoo Patel

Print
Share
Comment
Cite
Upload
Translate
APA
Peentoo Patel | Sciencx (2023-11-28T22:32:59+00:00) » Start the year with new video measurement and reporting features. Retrieved from https://www.scien.cx/2021/01/28/start-the-year-with-new-video-measurement-and-reporting-features/.
MLA
" » Start the year with new video measurement and reporting features." Peentoo Patel | Sciencx - Thursday January 28, 2021, https://www.scien.cx/2021/01/28/start-the-year-with-new-video-measurement-and-reporting-features/
HARVARD
Peentoo Patel | Sciencx Thursday January 28, 2021 » Start the year with new video measurement and reporting features., viewed 2023-11-28T22:32:59+00:00,<https://www.scien.cx/2021/01/28/start-the-year-with-new-video-measurement-and-reporting-features/>
VANCOUVER
Peentoo Patel | Sciencx - » Start the year with new video measurement and reporting features. [Internet]. [Accessed 2023-11-28T22:32:59+00:00]. Available from: https://www.scien.cx/2021/01/28/start-the-year-with-new-video-measurement-and-reporting-features/
CHICAGO
" » Start the year with new video measurement and reporting features." Peentoo Patel | Sciencx - Accessed 2023-11-28T22:32:59+00:00. https://www.scien.cx/2021/01/28/start-the-year-with-new-video-measurement-and-reporting-features/
IEEE
" » Start the year with new video measurement and reporting features." Peentoo Patel | Sciencx [Online]. Available: https://www.scien.cx/2021/01/28/start-the-year-with-new-video-measurement-and-reporting-features/. [Accessed: 2023-11-28T22:32:59+00:00]
rf:citation
» Start the year with new video measurement and reporting features | Peentoo Patel | Sciencx | https://www.scien.cx/2021/01/28/start-the-year-with-new-video-measurement-and-reporting-features/ | 2023-11-28T22:32:59+00:00
https://github.com/addpipe/simple-recorderjs-demo