This content originally appeared on Brave's Latest News on Brave Browser and was authored by Brave's Latest News on Brave Browser

New iOS version also includes enhanced fingerprinting protections and more privacy safeguards
For Brave, privacy isn't just marketing. It's real protections built right into the core code of the browser. You can see these protections on every page you visit, and they're on by default: With Brave, there are no extensions required, no settings to configure. You just download and browse. Privately.
Today's iOS browser release (v1.38) expands our privacy protections for Apple mobile users, and gives more visibility on the trackers, fingerprinting attempts, and other bad stuff hidden throughout the Web. It also highlights Brave's essential protections against this bad stuff.
Important updates in this release:
A new Privacy Hub 
Enhanced fingerprinting protections 
Certificate viewer
The Brave Privacy Hub for iOS
This new feature gives users more visibility on exactly what Brave blocked, and how Brave protects your personal information online. Privacy Hub shows a rolling update of how many trackers Brave blocked on a specific site, or in a given time span (e.g. over the previous week).
Privacy Hub helps educate you about trackers and other privacy threats. It highlights risky pages and trackers, and ties those trackers to the tech companies and publishers behind them. It shows just how often sites try to invade your privacy.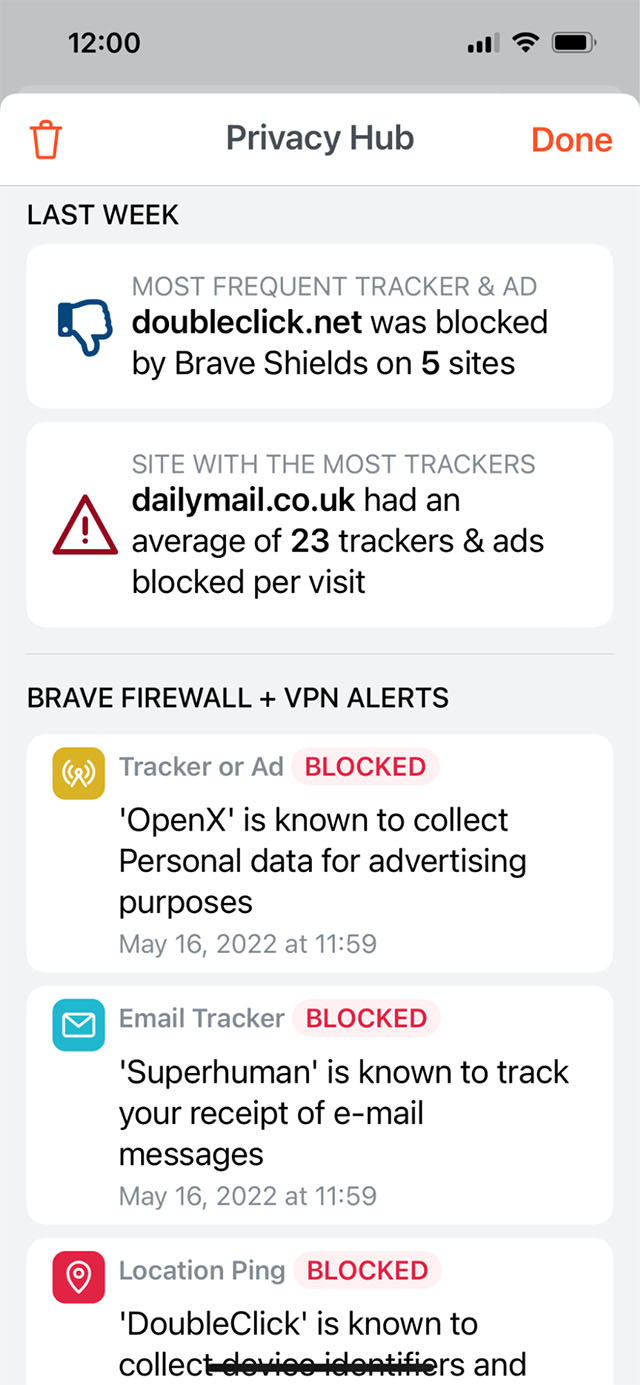 Enhanced fingerprinting protections on iOS
With 1.38, Brave has improved protections against fingerprinting for iOS. These new protections prevent significantly more sites from fingerprinting users, while simultaneously ensuring more websites load as expected.
To protect against fingerprinting, Brave adds small amounts of randomization to fingerprintable APIs, instead of disabling those APIs. This improves protections and avoids breaking websites.
These protections (already implemented on desktop and Android) are now available on iOS.
Certificate viewer for iOS
A website's security certificate keeps your communication with (basically your visit to) that website safe and confidential. For example, the certificate can help ensure you're visiting the real site and not a spoofed copy.
Brave has a certificate viewer on both its desktop and Android browsers; it's now extending that option to iOS with the 1.38 release. To view a page's certificate, tap the lock icon in the URL bar. Here you can then verify if a certificate is valid or revoked, trusted or not, or compliant (or not) with standards. And more.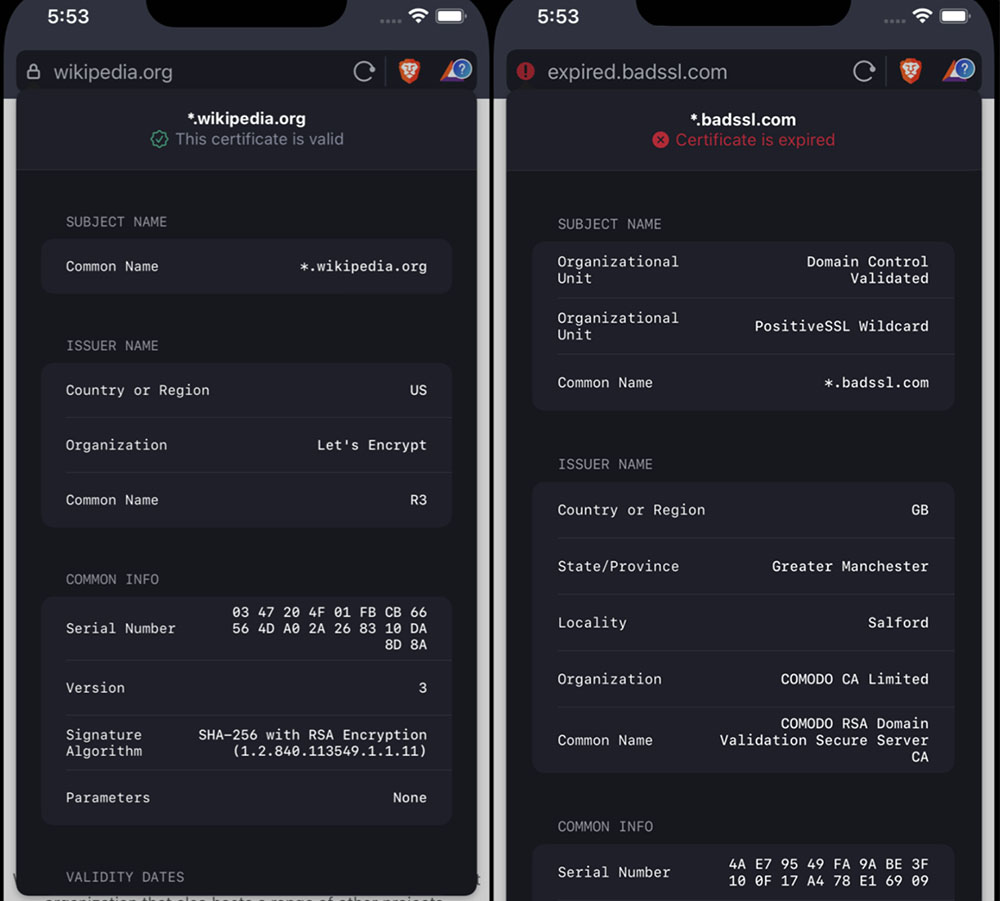 Valid Cerificate vs. Expired Certificate
Get started with Brave on iOS
Brave believes in privacy by default, that your data belongs to you and should be protected at the source: in your browser and on your device. Big Tech's sneaky (and risky) practices are in direct conflict with this.
With the 1.38 iOS release, Brave continues to make user data protection the cornerstone of the browser. It also brings more visibility on the trackers, fingerprinting attempts, and other bad stuff hidden throughout the Web.
Ready to ditch Big Tech, and get back your privacy? Download Brave for desktop, Android, or iOS. It only takes 60 seconds to switch.

This content originally appeared on Brave's Latest News on Brave Browser and was authored by Brave's Latest News on Brave Browser

Print
Share
Comment
Cite
Upload
Translate
APA
Brave's Latest News on Brave Browser | Sciencx (2023-10-05T00:04:39+00:00) » Brave 1.38 for iOS Debuts Privacy Hub for a Clearer View of What Brave Blocks on Every Page. Retrieved from https://www.scien.cx/2022/05/18/brave-1-38-for-ios-debuts-privacy-hub-for-a-clearer-view-of-what-brave-blocks-on-every-page/.
MLA
" » Brave 1.38 for iOS Debuts Privacy Hub for a Clearer View of What Brave Blocks on Every Page." Brave's Latest News on Brave Browser | Sciencx - Wednesday May 18, 2022, https://www.scien.cx/2022/05/18/brave-1-38-for-ios-debuts-privacy-hub-for-a-clearer-view-of-what-brave-blocks-on-every-page/
HARVARD
Brave's Latest News on Brave Browser | Sciencx Wednesday May 18, 2022 » Brave 1.38 for iOS Debuts Privacy Hub for a Clearer View of What Brave Blocks on Every Page., viewed 2023-10-05T00:04:39+00:00,<https://www.scien.cx/2022/05/18/brave-1-38-for-ios-debuts-privacy-hub-for-a-clearer-view-of-what-brave-blocks-on-every-page/>
VANCOUVER
Brave's Latest News on Brave Browser | Sciencx - » Brave 1.38 for iOS Debuts Privacy Hub for a Clearer View of What Brave Blocks on Every Page. [Internet]. [Accessed 2023-10-05T00:04:39+00:00]. Available from: https://www.scien.cx/2022/05/18/brave-1-38-for-ios-debuts-privacy-hub-for-a-clearer-view-of-what-brave-blocks-on-every-page/
CHICAGO
" » Brave 1.38 for iOS Debuts Privacy Hub for a Clearer View of What Brave Blocks on Every Page." Brave's Latest News on Brave Browser | Sciencx - Accessed 2023-10-05T00:04:39+00:00. https://www.scien.cx/2022/05/18/brave-1-38-for-ios-debuts-privacy-hub-for-a-clearer-view-of-what-brave-blocks-on-every-page/
IEEE
" » Brave 1.38 for iOS Debuts Privacy Hub for a Clearer View of What Brave Blocks on Every Page." Brave's Latest News on Brave Browser | Sciencx [Online]. Available: https://www.scien.cx/2022/05/18/brave-1-38-for-ios-debuts-privacy-hub-for-a-clearer-view-of-what-brave-blocks-on-every-page/. [Accessed: 2023-10-05T00:04:39+00:00]
rf:citation
» Brave 1.38 for iOS Debuts Privacy Hub for a Clearer View of What Brave Blocks on Every Page | Brave's Latest News on Brave Browser | Sciencx | https://www.scien.cx/2022/05/18/brave-1-38-for-ios-debuts-privacy-hub-for-a-clearer-view-of-what-brave-blocks-on-every-page/ | 2023-10-05T00:04:39+00:00
https://github.com/addpipe/simple-recorderjs-demo