This content originally appeared on Brave's Latest News on Brave Browser and was authored by Brave's Latest News on Brave Browser

As Brave continues to grow, we find many users who haven't heard of us yet, so we try new marketing channels for efficacy, reach, affordability, and of course, privacy.
Since 2020, Brave has been experimenting with direct mail via the United States Postal Service's Every Door Direct Mail (EDDM) program. EDDM allows businesses in the US to create and distribute mailers to addresses across one or more ZIP Codes. Direct mail allows Brave to reach more people across the country, including in regions where alternative marketing options—such as digital advertising—may be less effective.
EDDM is attractive to Brave because the process and system never expose any private, or otherwise sensitive, information regarding potential recipients. Further details about this effort and process were shared a few months ago in a transparency post on Reddit. To ensure privacy, also to avoid confusion, our mailers were intentionally designed to exclude names.

After having completed several test campaigns, Brave this year scaled up our efforts to reach seven major cities: Atlanta, Fresno, Milwaukee, Nashville, Philadelphia, Pittsburgh, and San Antonio. In this process, our EDDM vendor made a significant mistake by not excluding names, but instead including names before addresses, resulting in the distribution of personalized mailers.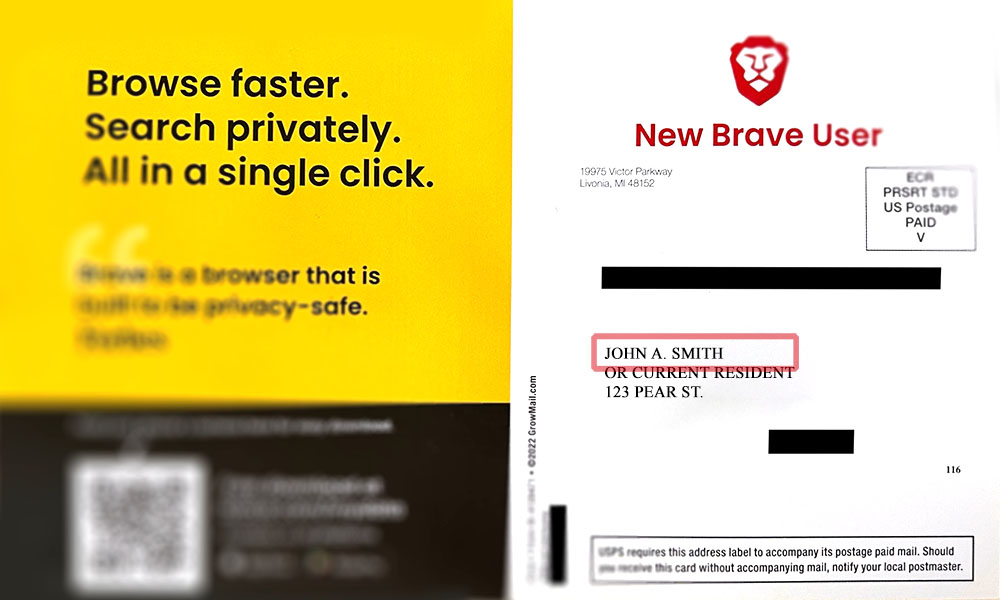 Because addresses are printed only after Brave's quality-assurance has finished (so as not to expose any sensitive information to Brave), this issue was not caught in time to prevent distribution.
Upon hearing from surprised recipients about this error, we froze any further printing of direct mail until the issue could be corrected. Any printed mailers with individual names which had not yet been sent were stopped and destroyed, while all future mailers were corrected to be anonymous (as originally intended), excluding printed names. We are evaluating whether further action needs to be taken due to the significance of the mistake.
We completely understand that some users are upset or confused about receiving a mailer addressed to them by name, and we sincerely apologize for this error. We're committed to fixing this kind of issue systematically, so it never happens again, and we appreciate all of you who helped us catch and correct the problem.

This content originally appeared on Brave's Latest News on Brave Browser and was authored by Brave's Latest News on Brave Browser

Print
Share
Comment
Cite
Upload
Translate
APA
Brave's Latest News on Brave Browser | Sciencx (2023-09-23T07:51:00+00:00) » Brave's use of Direct Mailers. Retrieved from https://www.scien.cx/2022/06/04/braves-use-of-direct-mailers/.
MLA
" » Brave's use of Direct Mailers." Brave's Latest News on Brave Browser | Sciencx - Saturday June 4, 2022, https://www.scien.cx/2022/06/04/braves-use-of-direct-mailers/
HARVARD
Brave's Latest News on Brave Browser | Sciencx Saturday June 4, 2022 » Brave's use of Direct Mailers., viewed 2023-09-23T07:51:00+00:00,<https://www.scien.cx/2022/06/04/braves-use-of-direct-mailers/>
VANCOUVER
Brave's Latest News on Brave Browser | Sciencx - » Brave's use of Direct Mailers. [Internet]. [Accessed 2023-09-23T07:51:00+00:00]. Available from: https://www.scien.cx/2022/06/04/braves-use-of-direct-mailers/
CHICAGO
" » Brave's use of Direct Mailers." Brave's Latest News on Brave Browser | Sciencx - Accessed 2023-09-23T07:51:00+00:00. https://www.scien.cx/2022/06/04/braves-use-of-direct-mailers/
IEEE
" » Brave's use of Direct Mailers." Brave's Latest News on Brave Browser | Sciencx [Online]. Available: https://www.scien.cx/2022/06/04/braves-use-of-direct-mailers/. [Accessed: 2023-09-23T07:51:00+00:00]
rf:citation
» Brave's use of Direct Mailers | Brave's Latest News on Brave Browser | Sciencx | https://www.scien.cx/2022/06/04/braves-use-of-direct-mailers/ | 2023-09-23T07:51:00+00:00
https://github.com/addpipe/simple-recorderjs-demo