This content originally appeared on Brave's Latest News on Brave Browser and was authored by Brave's Latest News on Brave Browser

Brave's multichain crypto wallet makes it easier for users to onboard to Web3 with new integrations from Beefy.finance, Elk Finance, Elpis Battles, Lido, Tulip, and Venus Protocol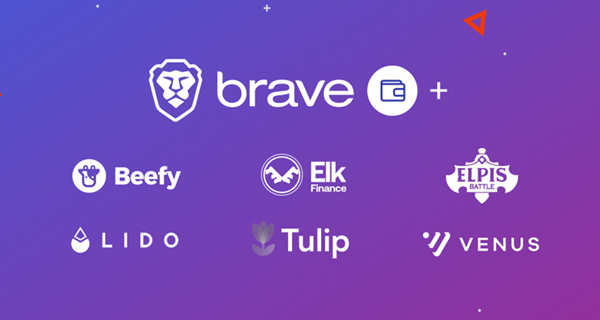 Last month we announced our Wallet Partner Program and a roster of six inaugural partners who integrated Brave Wallet connection in their DApps (ApeSwap, Arken, Bogged, DODO, Open Ocean, and Skiff). We are thrilled to announce six additional leading DApps (decentralized applications) spanning over 10 networks joining the program in July.
Partnering with the most widely-used decentralized applications in Web3 underlines Brave Wallet's ease of use and rich set of features. These include decentralized swaps, multi-chain portfolio view, simple fiat-to-crypto purchases with Ramp and Wyre, and continuous updates and additions to make Web3 more accessible. Importantly, partners in the program benefit from co-promotion of their DApps among Brave's 62+ million users via our blog, community channels, social media, and Brave Ads.
We are excited about the opportunities these partnerships can create for BAT utility and Brave Wallet users, including better access to decentralized finance (DeFi), privacy tools, lively social communities, and more. Each new addition deepens our commitment to providing the leading secure, multi-chain wallet, that we hope will onboard millions of users to Web3.
Beefy
Beefy is one of the largest and most-used yield-aggregators, with smart contract vaults that help users earn more yield on their liquidity positions across 16 different networks and dozens of decentralized exchanges. They hold the top position in terms of total value locked (TVL) among yield-aggregators on several major EVM-compatible chains and Ethereum Layer 2 solutions, including Polygon, Arbitrum, and Cronos.
"Integrating Beefy's services into a platform like Brave with a community of millions is a perfect use case for increased adoption. Earning APY through DeFi opportunities shouldn't just be for the few, and tapping into Brave's ecosystem will help more people earn than ever before," said Weso, Beefy's Lead Developer and Strategic Partnership Coordinator.
Elk Finance
ElkNet, the core product offered by Elk Finance, is a multi-chain bridge network that connects 19 EVM-compatible chains, allowing users to quickly and safely move their tokens from one chain to another. In addition to moving assets, Elk is adding cross-chain swaps, which offers users the choice to receive their bridged assets as a different token. "Our motto is Any chain, anytime, anywhere," said the Elk Team.
Elpis Battle
Elpis Battle is a turn-based RPG NFT Game implemented on the Binance Smart Chain network, which is developed by ZEGO Studio—a gaming studio in Southeast Asia. By combining cryptocurrency, NFT gaming, and DeFi, Elpis's developers want to create a new kind of gaming experience for Elpis Battle players. Elpis is a world where players can not only explore stories about an imaginary kingdom but also create value, exchange, buy, and sell assets as participants in the economy of Elpis.
"A common vision toward bigger goals is the foundation of our partnership. We envision this cross-platform partnership will help users be able to manage, grow, and swap their crypto portfolio from a single wallet securely and comfortably," said the Elpis Battle Team.
Lido
With over $5 billion in value locked between Ethereum and Solana alone, Lido is by far the most widely used liquid staking protocol available today. Lido makes it easy for anyone to participate in the proof of stake consensus while simultaneously allowing users to interact with DeFi protocols. This liquidity lets users find the best DeFi strategies for themselves while also securing some of industry's biggest blockchains: Ethereum, Solana, Polygon, Polkadot, and Kusama.
"A platform like Brave with a community in the millions will be critical for Lido to bring DeFi to the next generation and increase the resilience of the systems it is built upon. This was the entire reason that Lido and liquid staking was created in the first place and what has helped Lido become the leading liquid staking provider globally," said Jacob Blish, Head of Business Development at Lido.
Tulip
Tulip Protocol was the first yield aggregation platform built on Solana with auto-compounding vault strategies. The DApp is designed to take advantage of Solana's low cost, high efficiency blockchain. It allows vault strategies to compound frequently—which benefits yield farms with higher APYs—without  requiring active management. It also has lower gas fees. Tulip now offers a wide variety of strategies for its users: Lending, Auto-compounding Vaults, Leveraged Yield Farming, and their newly launched Strategy Vaults.
​​"Tulip believes in simplifying yield for all end users. A partnership with Brave brings us closer to our ideals as we can help Brave Wallet users tap into single-click yield generation with our protocol. We're excited to continue to work with Brave in the future," said Senx, Co-Founder at Tulip Protocol.
Venus Protocol
Venus is the leading DeFi market for lending and borrowing, and second largest decentralized application in terms of TVL on BNB Chain. Users can use their many pools (including XVS, BTCB, ETH, BNB) and a variety of stablecoins to borrow and lend assets at variable interest rates. Borrowers can benefit from on-demand access to a range of tokens with low interest rates, while depositors can earn yield on their idle assets. Venus currently supports 22 different cryptocurrencies.
"By integrating Venus with Brave, two DeFi leaders come together to fling open the doors of financial inclusion to millions of users. It's just the beginning for making open finance a reality around the globe," said Brad Harrison, CEO of Venus.
For the current phase of the Brave Wallet Partner Program, Brave is approaching leading DApps in each vertical to invite them to the program. We also aim to adapt and scale the program to become public-facing later this year. Once this happens, additional DApps can submit requests to participate.
In the meantime, if you're a developer interested in simply integrating Brave Wallet into your DApp, we've created detailed developer documentation.

This content originally appeared on Brave's Latest News on Brave Browser and was authored by Brave's Latest News on Brave Browser

Print
Share
Comment
Cite
Upload
Translate
APA
Brave's Latest News on Brave Browser | Sciencx (2023-10-04T23:11:39+00:00) » Brave expands its Wallet Partner program with six additional leading DApps. Retrieved from https://www.scien.cx/2022/07/21/brave-expands-its-wallet-partner-program-with-six-additional-leading-dapps/.
MLA
" » Brave expands its Wallet Partner program with six additional leading DApps." Brave's Latest News on Brave Browser | Sciencx - Thursday July 21, 2022, https://www.scien.cx/2022/07/21/brave-expands-its-wallet-partner-program-with-six-additional-leading-dapps/
HARVARD
Brave's Latest News on Brave Browser | Sciencx Thursday July 21, 2022 » Brave expands its Wallet Partner program with six additional leading DApps., viewed 2023-10-04T23:11:39+00:00,<https://www.scien.cx/2022/07/21/brave-expands-its-wallet-partner-program-with-six-additional-leading-dapps/>
VANCOUVER
Brave's Latest News on Brave Browser | Sciencx - » Brave expands its Wallet Partner program with six additional leading DApps. [Internet]. [Accessed 2023-10-04T23:11:39+00:00]. Available from: https://www.scien.cx/2022/07/21/brave-expands-its-wallet-partner-program-with-six-additional-leading-dapps/
CHICAGO
" » Brave expands its Wallet Partner program with six additional leading DApps." Brave's Latest News on Brave Browser | Sciencx - Accessed 2023-10-04T23:11:39+00:00. https://www.scien.cx/2022/07/21/brave-expands-its-wallet-partner-program-with-six-additional-leading-dapps/
IEEE
" » Brave expands its Wallet Partner program with six additional leading DApps." Brave's Latest News on Brave Browser | Sciencx [Online]. Available: https://www.scien.cx/2022/07/21/brave-expands-its-wallet-partner-program-with-six-additional-leading-dapps/. [Accessed: 2023-10-04T23:11:39+00:00]
rf:citation
» Brave expands its Wallet Partner program with six additional leading DApps | Brave's Latest News on Brave Browser | Sciencx | https://www.scien.cx/2022/07/21/brave-expands-its-wallet-partner-program-with-six-additional-leading-dapps/ | 2023-10-04T23:11:39+00:00
https://github.com/addpipe/simple-recorderjs-demo