Brave's native crypto wallet now features integrations from Aldrin, ApolloX, Bonfida, Cropper, Holaplex, Honeyswap, Jet Protocol, Marinade, NounsDAO, SolanaFM, Solend, SolBlaze, Spartan Protocol, Velodrome, and XY Finance.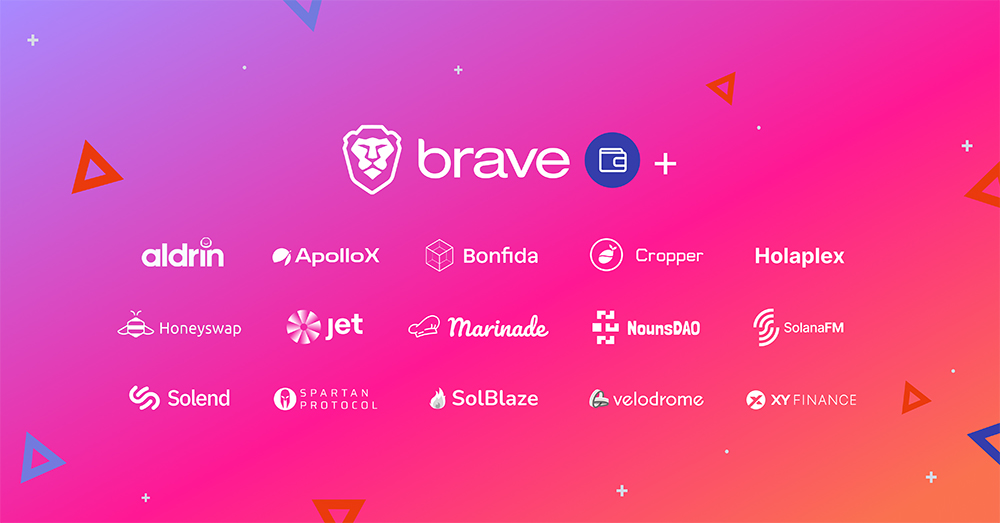 Following the recent launch of Solana DApp support in our browser (version 1.41), we're thrilled to announce that nine leading DApps on Solana have joined Brave's Wallet Partner program. Six new Ethereum and/or EVM-compatible DApps have also joined the program this month. This brings the total of partners to 27 since the inception of our program just two months ago, as the Brave browser continues to expand its Web3 integrations.
Through this program, partners add Brave Wallet to their list of supported wallet connections and co-market their DApp integration with Brave using the browser's marketing channels, blogs, communities, and social media.
In addition to raising awareness of Brave Wallet, the program also offers an opportunity for Brave and its partners to work together on further BAT utility projects or integrations.
These are the 15 projects Brave is excited to welcome to the Wallet Partner program this month:
Aldrin
Aldrin is building what they deem is the best swap experience and set of tools to allow anyone to earn passive income through DeFi. Their mission is to help you cut your lifetime of work in half. They focus on the finer details to create a seamless user experience. When it comes to security, Aldrin doesn't leave anything behind—the automated market maker (AMM) is audited by Kudelski, whose past projects include Solana and Binance. With over 450 trading pairs and 180 liquidity pools, users have a wide range of options to either swap, trade, stake, or provide liquidity.
"Integrating Brave is opening the doors to new users who will be able to use the power of DeFi. There is still a lack of knowledge amongst the masses when it comes to DeFi products and what they're capable of—we want to show them that both pro traders and newcomers can reap the same benefits in the same platform," said the team at Aldrin.
ApolloX
ApolloX is an industry-leading decentralized solution shaping Web3 trading for retail and institutional traders. Its product suite consists of ApolloX DEX, the biggest decentralized crypto derivatives exchange on BNB Chain, and ApolloX DEX Engine, a bespoke, ready-to-go solution for partners looking to launch their own derivatives DEX. Notable DeFi platforms like PancakeSwap, LaunchZone and SafePal leverage ApolloX DEX Engine to seamlessly deploy derivatives trading on their platforms in just a few steps.
"Integrating Brave Wallet with ApolloX empowers millions of users around the world to explore ApolloX's unique platform and tap into thriving DeFi ecosystems. We're thrilled to be working with Brave to advance our shared vision of the Web," said a lead member at ApolloX.
Bonfida
Bonfida's primary product is the Solana Name Service (SNS). SNS has a straightforward mission of providing users with a Web3 ID. One of the clear benefits of the name service is a human-readable name that maps to a SOL address. Wallet address formats can be a barrier to entry, and therefore having an identifiable address can facilitate payments, efficiency, and overall user experience in our sphere. A name, not a number.
"It's pretty simple; crypto shouldn't be difficult or confusing. The Solana Name Service has a beeline focus on convenience and enhancing user experience and in this manner, we will contribute to Brave's native crypto browsing experience. Together, we can make Web3 easy and accelerate mass adoption amongst Brave's robust community. We offer an identity, a name, a product with vast use cases but at the core, a domain name that cares to help users have the best Web3 experience," bonfida.sol said.
Cropper
Cropper is the most comprehensive launchpad on Solana, providing initial dex offerings (IDO) to carefully vetted projects, as well as a range of associated services to help build their initial liquidity within the ecosystem. Services include Liquidity Pool, Yield Farming, Staking, Bonding or Option Mining.
"Cropper is on a mission to provide all users with a secure and enjoyable platform for staking, farming, IDO participations, and more. To continue these efforts, integrating Brave Wallet to Cropper is essential. In doing so, we can provide more users with unique DeFi opportunities, as well as ensure a secure and user-friendly wallet option. We look forward to continuing working closely with the Brave team in a joint effort to increase DeFi access and adoption across the globe," said Croppish, core contributor at Cropper.
Holaplex
Holaplex provides enterprise-grade NFT commerce solutions and is the trusted technology partner for top brands and Web3 protocols, with over 10k creators utilizing our open source, decentralized products on Solana. Built to scale with your business, Holaplex applies its suite of open source tools and a network of trusted protocol partners to build top NFT experiences for brands.
"We are excited to work with Brave in integrating their wallet into our suite of open-source tools and support their indexing needs to run performant applications on the Solana blockchain as we look to bring Web3 technology to the masses." said Alex Kehaya CEO at Holaplex, Inc.
Honeyswap
Honeyswap is a decentralized exchange (DEX), deployed and maintained by 1Hive DAO. It's the first Uniswap V2 Fork deployed outside of Ethereum mainnet, on Gnosis Chain (formerly xDai). Honeyswap is deployed both on Gnosis and Polygon sidechains and utilizes the eco-routing developed by dxDao, acting as an aggregator that finds the best routes for your trades based on the available liquidity on all the other DEXs it supports. What makes Honeyswap unique is that the trading fees collected by the protocol are used to buy back HNY, which is, in turn, used to fund public goods. Hence, the more volume, the more public goods are funded through 1Hive. "Together we thrive,'' said the1Hive DAO contributors.
Jet Protocol
Jet Protocol is a non-custodial borrowing and lending protocol built on Solana. Jet is evolving rapidly and recently implemented its own governance UI—JetGovern—that enables token holders to participate in JetDAO to vote and shape the protocol. Jet's core MVP is an innovative cross-margin pooled lending protocol. The latest iteration of the Jet Protocol is internally named 'V2' and is set to launch in 2022. It's focused on margin trading (Jet Margin) and fixed-rate, fixed-term borrowing and lending (Jet Bonds).
Jet's Co-Founder James Moreau said, "Given Brave's broad and growing adoption, focus on security and user experience, as well as a crypto-native ethos, we're thrilled to see them support Solana-based web applications such as Jet Protocol through a browser wallet interface."
Marinade
Marinade is the first non-custodial liquid staking protocol built on Solana. Its mission is to strengthen and decentralize Solana and onboard more people around the world to DeFi. Marinade is the creator of the mSOL token: a collateralized version of SOL a user receives when they stake their SOL in the Marinade staking pool. Holders of mSOL tokens not only earn yield on their staked SOL, but can also use the fully liquid mSOL collateral token to earn additional yield through a growing selection of DeFi strategies. Marinade is a DAO with a governance token, MNDE, which can be locked to mint a Chef NFT that enables governance power and the ability to vote on validator and liquidity mining gauges.
"Marinade applauds Brave Wallet's integration of Solana and support of SPL tokens. Internet users come to Brave because they seek performance, security, and censorship resistance. And now when they connect the Brave Wallet to the Marinade DApp to liquid stake their SOL for mSOL, not only are they getting SOL staking yield without sacrificing DeFi opportunities, but they are also playing a role in creating a more decentralized and performant Solana blockchain," said Michael Repetny, Growth at Marinade.
NounsDAO
Nouns is a generative non-fungible token (NFT) project on the Ethereum blockchain. Nouns are 32×32 pixelated NFT characters based on people, places, and things. One noun is auctioned every 24 hours, forever. Each Noun sold contributes to a treasury governed by Nouns holders, where one Noun is equal to one vote. At the time of writing, the DAO holds 26,354 ETH or roughly $43,800,000 USD. Nouns are CC0 and fully open-source, which means the rights and project's code are shared in the public domain. This status has allowed Nouns to proliferate freely via over a hundred derivative collections, works of art, communities, and products. Nouns are characterized by their Nounish glasses, sometimes referred to as Noggles. The ultimate goal of the NounsDAO is to expand the reach of their brand, what they call "The Nouns Virtuous Cycle: Nouns is a protocol for proliferating Nouns."
SolanaFM
SolanaFM is the first indexer on Solana that allows you to gather and process data with maximum efficiency. The platform provides easy access to the full historical data within the Solana network. The platform facilitates indexing and querying services and enables protocols within the ecosystem to easily create fast and scalable applications. With its in-house infrastructure, SolanaFM built what they call the 'friendliest' explorer on Solana, on top of the fastest APIs and scalable indexing needs.
"Brave Wallet plays a vital role in bridging users from Web 2.0 to Web3. We believe in Web 2.0-based DApps which integrate Web3 (like Brave) to showcase how easy Web3 would be—this would be key to attract the masses," said FA2, Co-Founder at SolanaFM.
Solend
Solend is the autonomous interest rate machine for lending on Solana. Users can earn interest and borrow 50 assets across 18 pools on the fast, low-fee, and scalable DeFi lending protocol.
"I've personally been using Brave and love the product. Integrating Solend into Brave's suite of offerings is a no-brainer with their large user base and attractive offerings. With Brave's dedication to a good and private UX, it fits our vision for the on-chain world and we love to work together to bring the vision of bringing DeFi solutions to anyone in the world to life," said Soju at Solend.
SolBlaze
SolBlaze is an organization committed to building Solana's ecosystem through the development of core utilities vital to Solana's growth. They initially built the first-ever Solana mainnet-beta faucet, onboarding hundreds of thousands of users onto Solana. Then they created the first-ever front-end JavaScript payments SDK for Solana, making it easier for developers to integrate Solana payment flows into their websites. They've also launched BlazeStake, one of the largest liquid staking pools by validator set on Solana, making it easier for users to participate in decentralizing the network while interacting with the broader DeFi ecosystem. SolBlaze has integrated Brave Wallet across their entire lineup of applications, and are continuing to work on a variety of exciting projects on Solana, including an RPC status dashboard and an innovative way to pay for transaction fees.
"Brave closely aligns with SolBlaze's mission to build Solana's ecosystem, onboard the next billion users and developers to Solana, and strengthen the decentralization of the Solana network. We're super excited to be working with Brave to accomplish these goals together," said the founder of SolBlaze.
Spartan Protocol
Spartan Protocol pairs a unique liquidity-sensitive AMM algorithm with the low gas fees and fast settlement of BNB Chain to provide a range of open DeFi services to users looking to swap or earn yield on their assets. SPARTA is the common settlement asset inside every liquidity pool to remove any need for external oracles. The ethos behind Spartan is that it's built by the community, for the community.
"Brave is strongly aligned with the values of our community. When thinking about open-source building, privacy, and education, it is easy to see opportunities to collaborate and improve the experience for all crypto users. As a very happy Brave user, it was a no-brainer to prioritize the conscious integration of Brave Wallet into our community DApp and form a partnership that will develop into a strong bond," said Samus Elderg, Spartan Protocol ecosystem contributor.
Velodrome
Velodrome is a leading decentralized exchange and liquidity marketplace on Optimism. Using a vote-escrow token design and built-in bribe system, Velodrome offers a capital-efficient, sustainable model for protocols on Optimism to attract and retain liquidity for low slippage trading. Velodrome is the next evolution of Solidly, a protocol first introduced by Andre Cronje.
"The Brave ecosystem is paving the way for wide-scale DeFi adoption by prioritizing security, privacy, and user experience in every application. For Velodrome, integrating the best tools, such as Brave's wallet, is a key part of making deep liquidity accessible to all ecosystem players." said the Velodrome team.
XY Finance
XY Finance is a cross-chain solution provider delivering optimal routes across multiple blockchains, covering diverse cryptos and creating ultra-fast transfers. XY Finance provides cutting-edge SDKs & APIs for token swaps and a turnkey dynamic NFT infrastructure, spanning DeFi, NFTs, and Web3. XY Finance is friendly for developers, and easy for all.
"We're thrilled to integrate Brave Wallet to lower Brave users' threshold of traveling in the multi-chain world. We will bring users a seamless and efficient experience in bridging crypto across multi-chain," said Wilson Huang, Founder/CEO at XY Finance.
About Brave Wallet
Brave Wallet is the first browser-native crypto wallet, and your built-in passport to Web3. Brave Wallet enables Brave users to store, manage, grow, and swap their crypto portfolio from a single wallet. Unlike most crypto wallets, Brave Wallet does not require extensions; it's browser-native, reducing security risks and reliance on extra CPU and memory. Users can transact with almost any crypto asset with superior safety and performance, as well as connect with other wallets and Web3 DApps. Brave Wallet is available on desktop and mobile. Download Brave today, and explore all that our new partners have to offer in Web3.
Print
Share
Comment
Cite
Upload
Translate
APA
Brave's Latest News on Brave Browser | Sciencx (2023-10-04T22:36:26+00:00) » Brave adds 15 new leading DApps to its Wallet Partner program. Retrieved from https://www.scien.cx/2022/08/23/brave-adds-15-new-leading-dapps-to-its-wallet-partner-program/.
MLA
" » Brave adds 15 new leading DApps to its Wallet Partner program." Brave's Latest News on Brave Browser | Sciencx - Tuesday August 23, 2022, https://www.scien.cx/2022/08/23/brave-adds-15-new-leading-dapps-to-its-wallet-partner-program/
HARVARD
Brave's Latest News on Brave Browser | Sciencx Tuesday August 23, 2022 » Brave adds 15 new leading DApps to its Wallet Partner program., viewed 2023-10-04T22:36:26+00:00,<https://www.scien.cx/2022/08/23/brave-adds-15-new-leading-dapps-to-its-wallet-partner-program/>
VANCOUVER
Brave's Latest News on Brave Browser | Sciencx - » Brave adds 15 new leading DApps to its Wallet Partner program. [Internet]. [Accessed 2023-10-04T22:36:26+00:00]. Available from: https://www.scien.cx/2022/08/23/brave-adds-15-new-leading-dapps-to-its-wallet-partner-program/
CHICAGO
" » Brave adds 15 new leading DApps to its Wallet Partner program." Brave's Latest News on Brave Browser | Sciencx - Accessed 2023-10-04T22:36:26+00:00. https://www.scien.cx/2022/08/23/brave-adds-15-new-leading-dapps-to-its-wallet-partner-program/
IEEE
" » Brave adds 15 new leading DApps to its Wallet Partner program." Brave's Latest News on Brave Browser | Sciencx [Online]. Available: https://www.scien.cx/2022/08/23/brave-adds-15-new-leading-dapps-to-its-wallet-partner-program/. [Accessed: 2023-10-04T22:36:26+00:00]
rf:citation
» Brave adds 15 new leading DApps to its Wallet Partner program | Brave's Latest News on Brave Browser | Sciencx | https://www.scien.cx/2022/08/23/brave-adds-15-new-leading-dapps-to-its-wallet-partner-program/ | 2023-10-04T22:36:26+00:00
https://github.com/addpipe/simple-recorderjs-demo