This content originally appeared on Open Culture and was authored by Mark Linsenmayer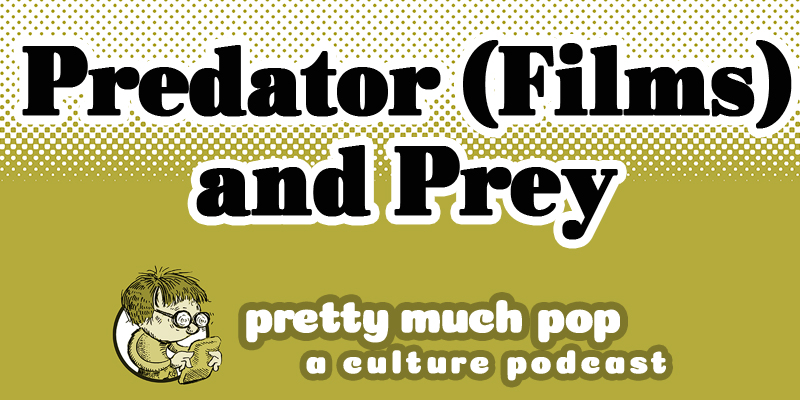 https://podtrac.com/pts/redirect.mp3/traffic.libsyn.com/secure/partiallyexaminedlife/PMP_133_8-23-22.mp3
Thanks to the new film Prey by Dan Trachtenberg and Patrick Aison, we now have six films (starting with 1987's Predator) featuring the dreadlocked, camouflaged, infrared-seeing race of alien hunters who have apparently been flying around collecting our skulls for 300 years.
Thankfully, the new film is good, and adds to the recent spate of Indigenous-centered media, with its young, female Comanche protagonist taking on evil French bison-killers, her sexist peers, and a mountain lion, in addition to a relatively low-tech version of what many comic books have called a Yautja.
We talk about what makes for a good Predator film, the appeal of the monster (and when in the films it gets revealed), the pacing of the films, the music, direction, effects, humor, social commentary, and more.
A few of the articles we consulted included:
This marks the first episode of Pretty Much Pop season three, where Mark Linsenmayer's recurring co-hosts will by default tentatively be those you will hear today: Philosophy prof/entertainment writer Lawrence Ware, novelist/writing prof Sarahlyn Bruck, and ex-musician, ex-philosophy grad student, and now ex-research manager Al Baker. The various convocations of musicians, comedians, et al, will still happen too, but will at least alternate with some permutation of that core group.
Hear more Pretty Much Pop. Support the show and hear bonus talking for this and nearly every other episode at patreon.com/prettymuchpop or by choosing a paid subscription through Apple Podcasts. This podcast is part of the Partially Examined Life podcast network.
Pretty Much Pop: A Culture Podcast is the first podcast curated by Open Culture. Browse all Pretty Much Pop posts.

This content originally appeared on Open Culture and was authored by Mark Linsenmayer

Print
Share
Comment
Cite
Upload
Translate
APA
Mark Linsenmayer | Sciencx (2023-09-23T09:19:35+00:00) » Why Predator — A Discussion of the Film Franchise on Pretty Much Pop: A Culture Podcast #133. Retrieved from https://www.scien.cx/2022/09/29/why-predator-a-discussion-of-the-film-franchise-on-pretty-much-pop-a-culture-podcast-133/.
MLA
" » Why Predator — A Discussion of the Film Franchise on Pretty Much Pop: A Culture Podcast #133." Mark Linsenmayer | Sciencx - Thursday September 29, 2022, https://www.scien.cx/2022/09/29/why-predator-a-discussion-of-the-film-franchise-on-pretty-much-pop-a-culture-podcast-133/
HARVARD
Mark Linsenmayer | Sciencx Thursday September 29, 2022 » Why Predator — A Discussion of the Film Franchise on Pretty Much Pop: A Culture Podcast #133., viewed 2023-09-23T09:19:35+00:00,<https://www.scien.cx/2022/09/29/why-predator-a-discussion-of-the-film-franchise-on-pretty-much-pop-a-culture-podcast-133/>
VANCOUVER
Mark Linsenmayer | Sciencx - » Why Predator — A Discussion of the Film Franchise on Pretty Much Pop: A Culture Podcast #133. [Internet]. [Accessed 2023-09-23T09:19:35+00:00]. Available from: https://www.scien.cx/2022/09/29/why-predator-a-discussion-of-the-film-franchise-on-pretty-much-pop-a-culture-podcast-133/
CHICAGO
" » Why Predator — A Discussion of the Film Franchise on Pretty Much Pop: A Culture Podcast #133." Mark Linsenmayer | Sciencx - Accessed 2023-09-23T09:19:35+00:00. https://www.scien.cx/2022/09/29/why-predator-a-discussion-of-the-film-franchise-on-pretty-much-pop-a-culture-podcast-133/
IEEE
" » Why Predator — A Discussion of the Film Franchise on Pretty Much Pop: A Culture Podcast #133." Mark Linsenmayer | Sciencx [Online]. Available: https://www.scien.cx/2022/09/29/why-predator-a-discussion-of-the-film-franchise-on-pretty-much-pop-a-culture-podcast-133/. [Accessed: 2023-09-23T09:19:35+00:00]
rf:citation
» Why Predator — A Discussion of the Film Franchise on Pretty Much Pop: A Culture Podcast #133 | Mark Linsenmayer | Sciencx | https://www.scien.cx/2022/09/29/why-predator-a-discussion-of-the-film-franchise-on-pretty-much-pop-a-culture-podcast-133/ | 2023-09-23T09:19:35+00:00
https://github.com/addpipe/simple-recorderjs-demo