This content originally appeared on DEV Community 👩‍💻👨‍💻 and was authored by Conor Bronsdon

Where has all the focus time gone? Why does there seem to be less of it at big companies than at startups? And do managers really have as little as they claim?
It should come as no surprise to our listeners that we're big fans of data here at Dev Interrupted. The coolest thing about having Dan Kador, VP of Engineering at Clockwise, on the show is that he brings data we already intuitively understood but could not quantify.
Armed with data from 1.5 million meetings, 80,000 engineers and over 5,000 companies, this episode answers every question your engineering team has wondered about meetings - and might just reaffirm every suspicion you've had too.
Episode Highlights Include:
(2:58) Dan's career journey
(6:24) What is The 2022 Software Engineering Meeting Benchmark Report?
(8:43) How the data was collected
(13:50) Is there a Clockwise secret sauce?
(20:46) The time it takes to enter a flow state
(25:17) The "Coordination Tax"
(35:21) How to improve your engineering team based on the data
While you're here, check out this video from our YouTube channel, and be sure to like and subscribe when you do!
Want to know how engineers at Slack and Stripe connect their dev teams' work to the business bottom line? Or how team leads at Shopify and CircleCI keep elite cycle time while minimizing dev burnout and maximizing retention?
These are just two of the topics we'll tackle at Interact on October 25th.
A free, virtual, community-driven engineering leadership conference, Interact is a one-day event featuring over 25 of the most respected minds in development, all selected by the thousands of engineering leaders in the Dev Interrupted community.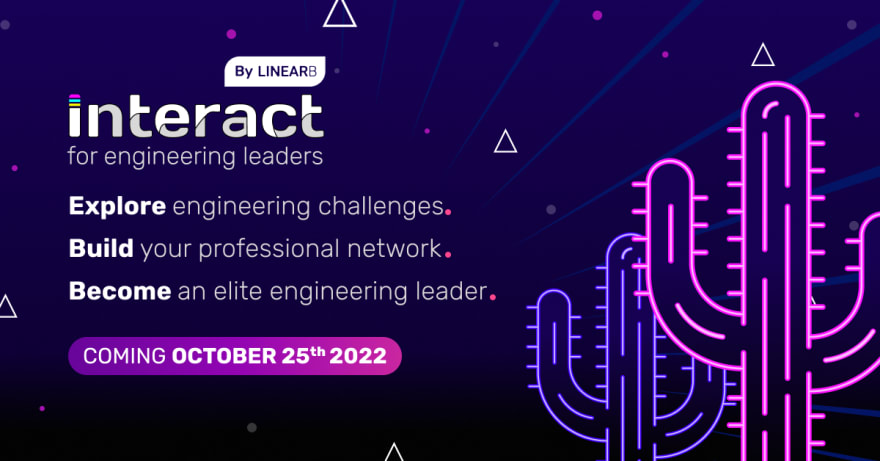 This content originally appeared on DEV Community 👩‍💻👨‍💻 and was authored by Conor Bronsdon

Print
Share
Comment
Cite
Upload
Translate
APA
Conor Bronsdon | Sciencx (2023-12-08T02:33:49+00:00) » Where Did All The Focus Time Go? Dissecting 1.5 Million Meetings. Retrieved from https://www.scien.cx/2022/10/13/where-did-all-the-focus-time-go-dissecting-1-5-million-meetings/.
MLA
" » Where Did All The Focus Time Go? Dissecting 1.5 Million Meetings." Conor Bronsdon | Sciencx - Thursday October 13, 2022, https://www.scien.cx/2022/10/13/where-did-all-the-focus-time-go-dissecting-1-5-million-meetings/
HARVARD
Conor Bronsdon | Sciencx Thursday October 13, 2022 » Where Did All The Focus Time Go? Dissecting 1.5 Million Meetings., viewed 2023-12-08T02:33:49+00:00,<https://www.scien.cx/2022/10/13/where-did-all-the-focus-time-go-dissecting-1-5-million-meetings/>
VANCOUVER
Conor Bronsdon | Sciencx - » Where Did All The Focus Time Go? Dissecting 1.5 Million Meetings. [Internet]. [Accessed 2023-12-08T02:33:49+00:00]. Available from: https://www.scien.cx/2022/10/13/where-did-all-the-focus-time-go-dissecting-1-5-million-meetings/
CHICAGO
" » Where Did All The Focus Time Go? Dissecting 1.5 Million Meetings." Conor Bronsdon | Sciencx - Accessed 2023-12-08T02:33:49+00:00. https://www.scien.cx/2022/10/13/where-did-all-the-focus-time-go-dissecting-1-5-million-meetings/
IEEE
" » Where Did All The Focus Time Go? Dissecting 1.5 Million Meetings." Conor Bronsdon | Sciencx [Online]. Available: https://www.scien.cx/2022/10/13/where-did-all-the-focus-time-go-dissecting-1-5-million-meetings/. [Accessed: 2023-12-08T02:33:49+00:00]
rf:citation
» Where Did All The Focus Time Go? Dissecting 1.5 Million Meetings | Conor Bronsdon | Sciencx | https://www.scien.cx/2022/10/13/where-did-all-the-focus-time-go-dissecting-1-5-million-meetings/ | 2023-12-08T02:33:49+00:00
https://github.com/addpipe/simple-recorderjs-demo