This content originally appeared on DEV Community and was authored by Aditya Oberai

One of the biggest reasons Appwrite is growing rapidly as a product while crossing several milestones along the way is the community supporting it. It is always very special to see folks from different walks of life coming together to contribute to a common goal. We have been very grateful for these efforts and tried to ensure that we have given back to our community wherever we could have.
In the midst of these efforts, we discovered several individuals who stood out in their efforts to create content, build solutions, provide support, and contribute code, essentially enabling the tech community with Appwrite in any manner they could. Thus, we have decided to launch a new initiative to empower such superheroes and support their efforts in our community.
This is why it's our absolute pleasure to announce to you all the Appwrite Heroes program!
What Is the Appwrite Heroes program?
The Appwrite Heroes program is an exclusive group of developers who are experts in Appwrite and dedicated to creating valuable content to assist other developers in achieving success. Whether you excel in creating video tutorials, written guides, blog posts, or providing support in our fast-growing Discord community, this program is the ideal opportunity to make a meaningful impact in the developer community.
To be selected as an Appwrite Hero, you must be an active contributor in the Appwrite community, which includes (but is not limited to):
Speaking about Appwrite at events (podcasts, hackathons, meetups, conferences, etc.)
Helping community members with their queries in the Appwrite Discord server
Participating in Appwrite-relevant discussions on social media and external forums such as GitHub, StackOverflow, Reddit, etc.
Actively contributing to Appwrite's open-source repositories
Creating written or video content educating about Appwrite
Building projects with Appwrite
Being a member of the program does have some perks as well:
Direct access to Appwrite's core team
Invite to an in-person gathering (for top contributors)
An exclusive digital badge to share on Discord and LinkedIn
Opportunity to beta-test Appwrite releases
Exclusive Appwrite Heroes swag
Free cloud credits (on request)
Exclusive promotions of your content and events on Appwrite social media accounts and newsletters
Recognition as a Hero in the Appwrite community with a dedicated profile on the official Appwrite website
Exclusive role on the Appwrite Discord server
Special access to a more in-depth roadmap and invites to our internal demo days before release
Sponsorship for your organized events (based on activity level, case-by-case)
Travel support to speak at developer conferences (on a case-by-case basis)
and even more!
Introducing Our Founding Batch of Heroes
As we launch the program, we have handpicked a selective group of community members contributing, in various ways, to the Appwrite community. Here they are:
Bishwajeet Parhi is a Flutter developer and active open-source contributor. He's currently a junior pursuing a Computer Science and Engineering degree and also an organizer of the Hack This Fall hackathon.
Stephen Augustine SIMON (stage name SIMON) currently works on React and Azure. He leads one of the world's largest developer communities and has been instrumental in developing and implementing strategies to foster a sense of belonging and connection among the community members. He has hosted over 760 guests in more than 300 live shows and 38 virtual conferences. He also uploads tech videos on his personal YouTube channel. He hits the gym regularly and has attempted the world's highest bungy twice.
Emilia is a current student who actively focuses on system administration and coding. She likes working with Docker, Linux, Svelte, and Go, is currently exploring Envoy proxy, Crowdsec, Kubernetes, and Rust, and happens to be one of the most active contributors in Appwrite's Discord community.
Diana discovered Appwrite and its wonderful team while completing her master's in computer science. Now, as a developer advocate at Vonage, she is excited to build projects using both backend servicing and telecommunications APIs. Her career goals include becoming a better developer, improving her creativity through content creation, and finding ways to express her authentic self through work. Outside of work, she enjoys oyster happy hours, trying new food, competing in beauty pageants, petting farm animals, and now trains as a pole dancer. Though she met the Appwrite team through work in the tech industry, she values their friendship and can't wait to be a part of growing the community alongside them.
Tanmoy Karmakar is a co-organizer at Flutter Kolkata and SDE-II [Flutter] at SaaS Labs. He loves to create content related to Flutter and organize events and meet-ups. Learning new ways to complement Flutter development always amuses him.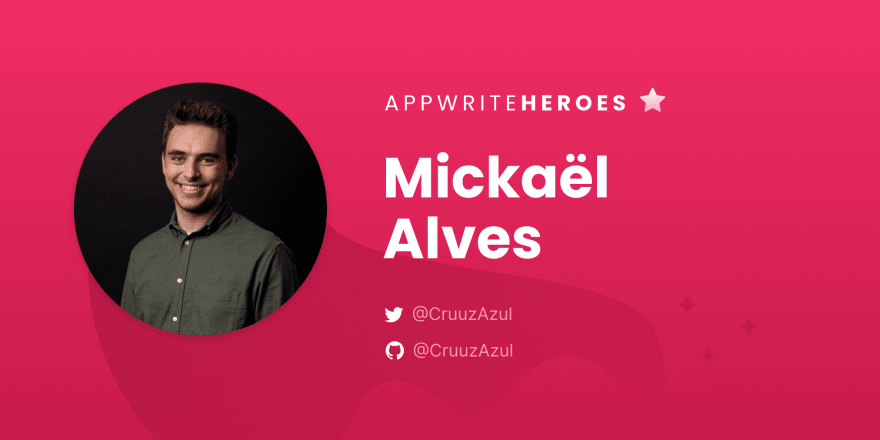 Mickaël is a French front-end developer passionate about his job, who currently works in Lyon as a web consultant at Zenika. Mickaël loves learning new things, and testing the latest tech stuff! He is always ready to share with others through my teaching engagements or meetups that he co-organizes with the LyonJS group. In addition to his professional work, he is also a speaker at various conferences where he talks about many cool things like Appwrite, Flutter, Remotion, and all his favorite subjects!
Lucas has had a strong interest in computer science since a young age and is currently working as a web developer focusing on front-end technologies. He is committed to staying current with the latest technologies and industry trends and is always looking to improve his skills and deliver high-quality work. Today he works as a web consultant at Zenika, where he has had the opportunity to talk about Appwrite and other various technologies at several development conferences in France, such as MixIt, Breizhcamp, DevFest Dijon, and Snowcamp.
Join the Community
We hope that the Appwrite Heroes program will allow us to empower more community members to support their peers with Appwrite in the times to come. If you want to learn more about the program and/or are interested in becoming a part of the program, do visit the Appwrite Heroes page, join the Appwrite Discord community and follow Appwrite on Twitter for more updates.

This content originally appeared on DEV Community and was authored by Aditya Oberai

Print
Share
Comment
Cite
Upload
Translate
APA
Aditya Oberai | Sciencx (2023-10-04T23:48:27+00:00) » Introducing the Appwrite Heroes. Retrieved from https://www.scien.cx/2023/03/16/introducing-the-appwrite-heroes/.
MLA
" » Introducing the Appwrite Heroes." Aditya Oberai | Sciencx - Thursday March 16, 2023, https://www.scien.cx/2023/03/16/introducing-the-appwrite-heroes/
HARVARD
Aditya Oberai | Sciencx Thursday March 16, 2023 » Introducing the Appwrite Heroes., viewed 2023-10-04T23:48:27+00:00,<https://www.scien.cx/2023/03/16/introducing-the-appwrite-heroes/>
VANCOUVER
Aditya Oberai | Sciencx - » Introducing the Appwrite Heroes. [Internet]. [Accessed 2023-10-04T23:48:27+00:00]. Available from: https://www.scien.cx/2023/03/16/introducing-the-appwrite-heroes/
CHICAGO
" » Introducing the Appwrite Heroes." Aditya Oberai | Sciencx - Accessed 2023-10-04T23:48:27+00:00. https://www.scien.cx/2023/03/16/introducing-the-appwrite-heroes/
IEEE
" » Introducing the Appwrite Heroes." Aditya Oberai | Sciencx [Online]. Available: https://www.scien.cx/2023/03/16/introducing-the-appwrite-heroes/. [Accessed: 2023-10-04T23:48:27+00:00]
rf:citation
» Introducing the Appwrite Heroes | Aditya Oberai | Sciencx | https://www.scien.cx/2023/03/16/introducing-the-appwrite-heroes/ | 2023-10-04T23:48:27+00:00
https://github.com/addpipe/simple-recorderjs-demo