This content originally appeared on The Keyword and was authored by Kate Beddoe

With the news moving faster than ever, it's clear that journalism is an essential way to keep people informed. To meet growing reader and publisher needs, last year we increased our investment in news partnerships and launched Google News Showcase. Today we are happy to announce we are rolling out an initial version of the product to benefit users and publishers in Australia, with a keen focus on leading regional and independent publishers given the importance of local information and the role it plays in people's everyday lives.
News Showcase is designed to bring value to both publishers and readers by providing a licensing program that pays publishers to curate content for story panels across Google services, and gives readers more insights into the stories that matter. Since launching last year, alongside a $1.3 billion AU (US $1 billion) global investment, we've more than doubled the number of publications that are part of News Showcase; now, there are over 450 publications across a dozen countries such as the U.K., Germany, Brazil, Argentina, Canada and Japan. Last month, we announced a global deal with Reuters as well as multiple deals with publishers in France, including the country's three top daily newspapers. 
Starting today, a growing number of Australian publishers, leading examples of the best of local and regional journalism, will be paid to provide content for News Showcase. The initial publishers featured in today's launch were among the first globally to sign up, providing early feedback and input on how the product could help bring their journalism to the fore for readers. We have been continually working with Australian news publishers of all sizes to provide their readers with a different kind of news experience under News Showcase. As this early version of News Showcase rolls out, the partnerships will provide financial support for some of the country's most respected independent, local and regional publications including The Canberra Times, The Illawarra Mercury, The Saturday Paper, Crikey, The New Daily,  InDaily and The Conversation. We are looking forward to bringing more Australian media partners on board in the coming weeks and months as we further build out the experience for publishers and users. 
"Private Media has always welcomed the opportunity to explore new platforms and experiment with how we get our journalism out there, and we're looking forward to what we can learn by having Crikey and SmartCompany appear on Google News Showcase," says Zoe Dattner, Head of Publishing Operations at Private Media, an independent digital media company.
The benefits of News Showcase for publishers
News Showcase contributes to a sustainable business model and helps deepen their relationships with readers.  
Panels on News Showcase display an enhanced view of an article or articles, giving participating publishers more ways to bring important news to readers and explain it in their own voice, along with more direct control of presentation and branding. The panels will appear across Google News on Android, iOS and the mobile web, and in Discover on iOS, bringing high-value traffic to a publisher's site. We also plan to bring News Showcase to Search as well as the other surfaces of Google News and Discover in the future. Each article linked in a News Showcase panel takes the reader directly to the corresponding page on a publisher's site, allowing publishers to further grow their business by showing users ads and subscription opportunities.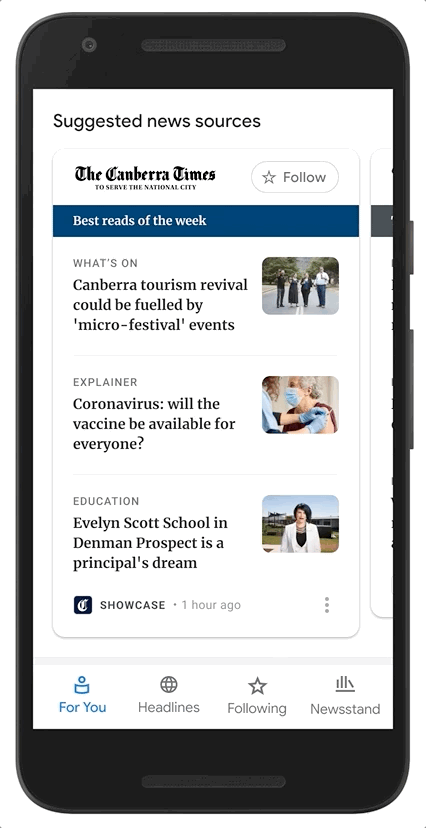 We're also making it easier for publishers to learn more about what their readers care about. Publishers are already able to get analytics on their content in a variety of Google products, and in the coming months they will be able to learn even more with News Showcase metrics on Search Console. This means publishers will have more data to better understand which articles and topics interest readers the most.  
"As a digital and content-focused media company serving Australia's major regional population centres, ACM is always looking for new ways for our trusted news brands to deliver their unrivalled local news coverage to the widest possible audience," says Tony Kendall, CEO of Australian Community Media, a leading rural and regional media network. "Whether it's on our new apps or our websites, via podcasts, social media, newsletters or the printed newspaper, we want the journalism of mastheads like The Canberra Times and Newcastle Herald to reach our communities wherever they are. Showcase is an opportunity for our 14 daily titles to curate their trusted local journalism for Google News users and we are working constructively with Google to explore the exciting potential of this product to engage mobile audiences."
News Showcase builds on our news licensing program launched last year, which is already paying publishers for quality journalism, and other news-related efforts such as Subscribe with Google. Participating News Showcase publishers receive a set monthly fee for curating their articles for News Showcase, and in some cases for providing access to articles behind their paywall so that readers can see the value of becoming subscribers and publishers can build a relationship with readers. Our investment in this product is a significant step forward in helping secure a strong future for Australian news and reflects our continuing commitment to the financial sustainability of the news industry. 
We developed News Showcase in close collaboration with our news publisher partners in Australia, who have contributed valuable feedback and input on product features that will help connect readers to their journalism. We're confident that News Showcase offers a fair, practical way forward for publishers to generate revenue by curating and featuring their content on this product. 
"This is a chance to take a leading role in putting quality journalism in front of people," says Rebecca Costello, CEO of Schwartz Media, an independent media organization that publishes in-depth, original public interest reporting, focusing on storytelling and insight. "It helps take the rigour of what we do at The Saturday Paper, The Monthly and 7am and connect it to broader audiences. It is one way of addressing the age of misinformation in which we live."
Readers benefit from added context on News Showcase 
Now that News Showcase is live in Australia, it is even easier for people to find valuable content from the news organizations they trust, or discover new publications covering their interests and the places they care about. News Showcase panels let users dive deeper into a story and see important articles updated multiple times per day by their favourite publishers. So, for example, if a user follows an outlet that covers their local news, they will see fresh updates on the most important local stories, selected by that newsroom. Relevant publications' panels will also be shown directly within the For You feed, plus in a dedicated area within Newsstand on Google News where users can discover News Showcase publications. 
Lisa Watts, CEO of The Conversation Media Group, a global journalism network, says while there is a deluge of information online, audiences were struggling to know what to trust. "In recent years we've noticed Google has been increasing its effort to promote journalism that has gone through a rigorous process of fact checking," she says. "The Conversation only works with academics who are experts in their field, and all our articles are carefully curated by professional journalists. This means we're in a perfect position to work with Google to try and provide a stream of reliable information that can meet the needs of audiences." 
"Our aim is to rebuild trust in experts and share quality information with those who need it most and we are working with Google to achieve these goals," Watts says.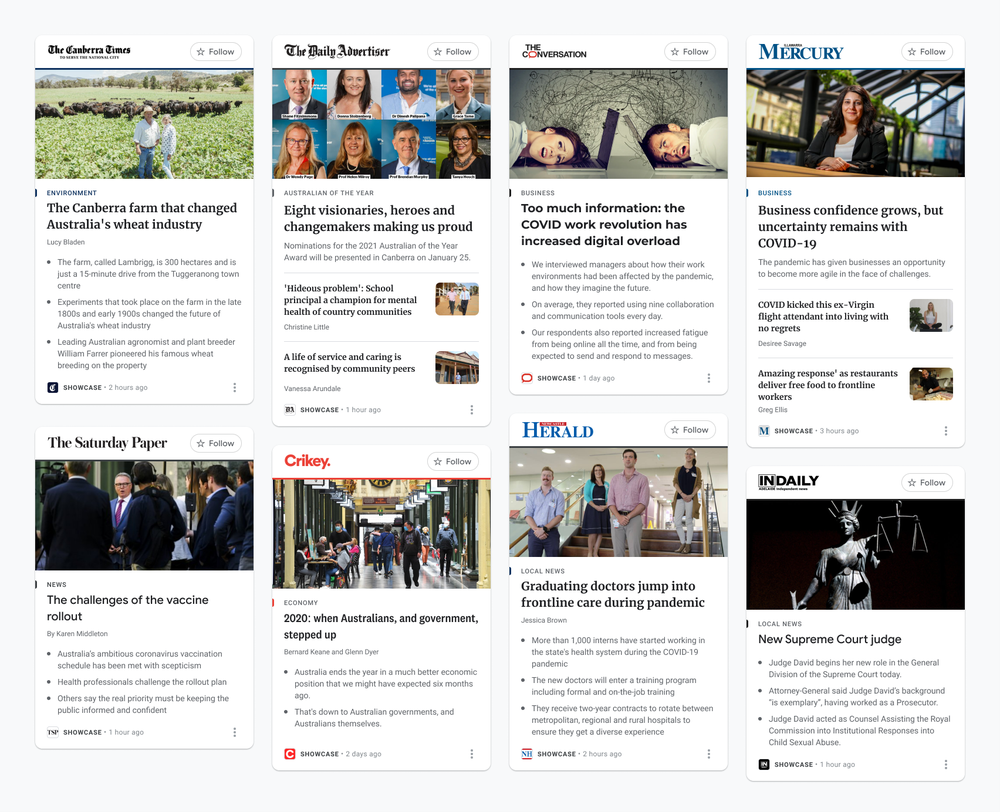 Google News Showcase is one of our biggest investments in news to date, and builds on efforts like the  Google News Initiative's $300 million global commitment, our emergency funding for local publishers globally to help with the impact of COVID-19 and our Digital Growth Program aimed at small and medium-sized publishers to accelerate their business growth.
News Showcase also marks an evolution in our approach as we step up our efforts, alongside other companies, governments and civil society, in contributing to a better future for quality journalism.  

This content originally appeared on The Keyword and was authored by Kate Beddoe

Print
Share
Comment
Cite
Upload
Translate
APA
Kate Beddoe | Sciencx (2023-12-01T03:19:44+00:00) » Google News Showcase launches in Australia. Retrieved from https://www.scien.cx/2021/02/04/google-news-showcase-launches-in-australia/.
MLA
" » Google News Showcase launches in Australia." Kate Beddoe | Sciencx - Thursday February 4, 2021, https://www.scien.cx/2021/02/04/google-news-showcase-launches-in-australia/
HARVARD
Kate Beddoe | Sciencx Thursday February 4, 2021 » Google News Showcase launches in Australia., viewed 2023-12-01T03:19:44+00:00,<https://www.scien.cx/2021/02/04/google-news-showcase-launches-in-australia/>
VANCOUVER
Kate Beddoe | Sciencx - » Google News Showcase launches in Australia. [Internet]. [Accessed 2023-12-01T03:19:44+00:00]. Available from: https://www.scien.cx/2021/02/04/google-news-showcase-launches-in-australia/
CHICAGO
" » Google News Showcase launches in Australia." Kate Beddoe | Sciencx - Accessed 2023-12-01T03:19:44+00:00. https://www.scien.cx/2021/02/04/google-news-showcase-launches-in-australia/
IEEE
" » Google News Showcase launches in Australia." Kate Beddoe | Sciencx [Online]. Available: https://www.scien.cx/2021/02/04/google-news-showcase-launches-in-australia/. [Accessed: 2023-12-01T03:19:44+00:00]
rf:citation
» Google News Showcase launches in Australia | Kate Beddoe | Sciencx | https://www.scien.cx/2021/02/04/google-news-showcase-launches-in-australia/ | 2023-12-01T03:19:44+00:00
https://github.com/addpipe/simple-recorderjs-demo