This content originally appeared on Brave's Latest News on Brave Browser and was authored by Brave's Latest News on Brave Browser

Brave Software, makers of the privacy-preserving Brave browser, and Guardian, makers of Guardian Firewall + VPN, have extended their partnership to integrate Brave Firewall + VPN, powered by Guardian into the Brave Android app.
This partnership enables the fastest, safest, most private full-device coverage on Android. This follows the Firewall + VPN for the Brave iPhone and iPad browser apps; Brave is helping even more users encrypt and protect their browsing data, across the two most widely used mobile platforms.
System-wide security for $99.99 per year
Starting with today's 1.39 version, Brave users can easily purchase the service from the Play Store and instantly bring full-device security to every app on their phone. The firewall and VPN service works system-wide, not only in Brave for Android, but also in any other app that users have on their Android device, protecting users from data, location, and email beacon tracking.
This premium feature delivers more functionality than standard or free VPNs, and gives users network-level protection over unwanted surveillance for $9.99 USD per month or $99.99 USD per year. The VPN subscription can be used on up to 5 Android devices, as long as each has the Brave browser installed.
"Brave is about helping users protect their data on their devices where it originates, and we're thrilled once again to partner with Guardian to offer our Android users our Firewall + VPN solution, since this has been a popular request," said Brendan Eich, CEO and co-founder of Brave. "Enabling our Android users to protect their devices at the network level is part of our mission to put users and their privacy first, particularly as more and more Android apps embed third party trackers that surveil those apps' users."
"The team at Guardian is very excited to work with Brave to deliver a system-wide Firewall + VPN experience on the Android platform, leveraging WireGuard technology to encrypt user connections, and our best-in-class custom firewall tech to efficiently block nasty app-based data and location trackers," said Will Strafach, CEO at Guardian.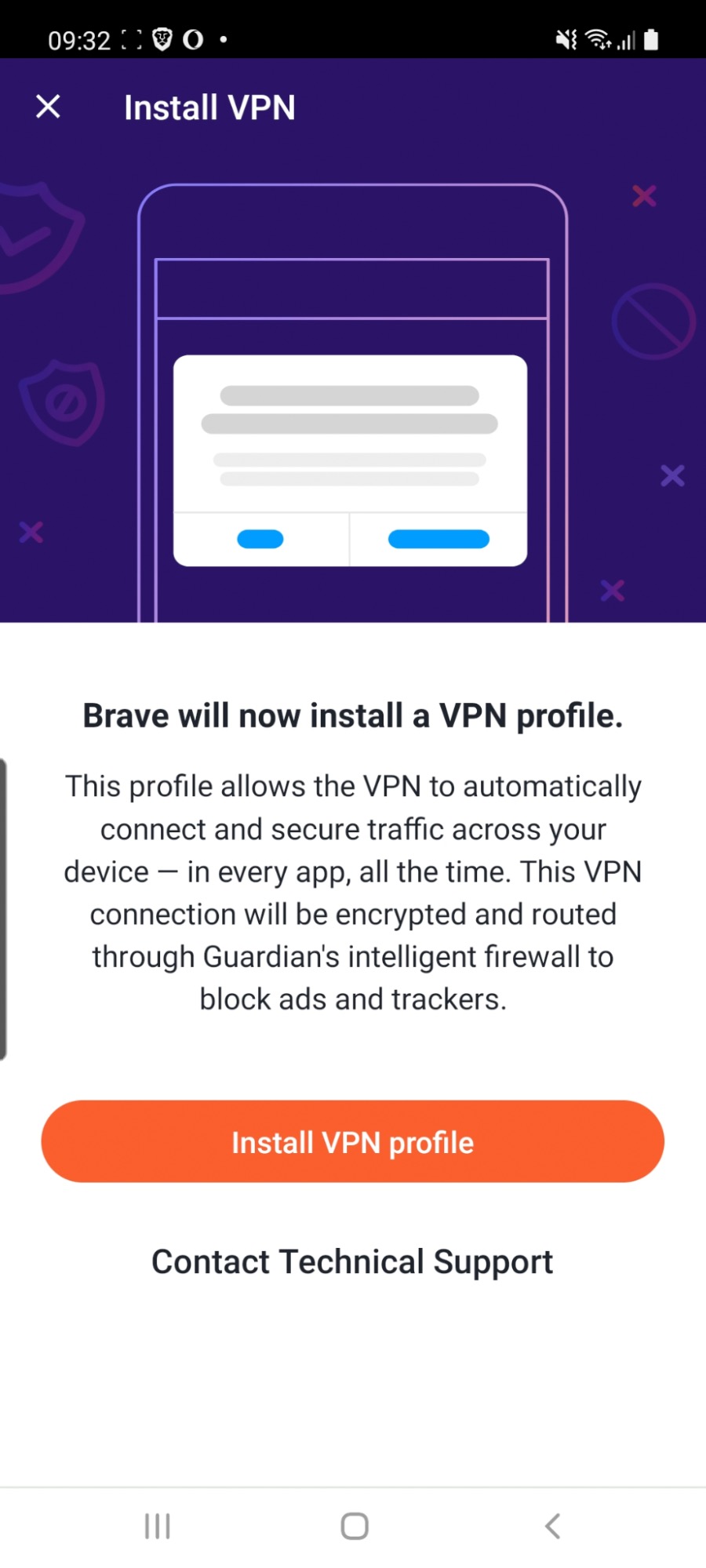 Enhanced security and privacy
Unlike many other browsers—where the VPN masks only the user's IP address—Brave Firewall + VPN offers that address masking, as well as enhanced security and privacy by encrypting and protecting anything a user does while connected to the Internet. It also prevents unauthorized tracking, blocks ads, and encrypts all traffic from the device. Brave Firewall + VPN sends a user's Android traffic through an encrypted VPN to Guardian's servers, allowing them instantly to spot which apps are secretly broadcasting tracking data, and to block the offending activity while ensuring apps work as intended. It also allows users to select a local server to connect to, improving both performance and speed.
Unique authentication system
The unique Brave Firewall + VPN authentication system is designed specifically not to require use or retention of any user information. Instead, a pseudonymous digital receipt from the Play Store is used to enable VPN access to users, and randomized, rotated identifiers are used to connect to VPN servers. This brings VPN server access to paying subscribers in a manner that does not require Brave or Guardian to be aware of a user's identity.
The Firewall + VPN for the Brave Android app will be actively rolling out in the Play Store to all geographies over the next several days, and is available for Android 8 devices and up. Availability of this feature is expected in the next several months for the Brave desktop browser, and Brave iOS users can purchase the service from the App Store.
---
About Brave
Brave Software's fast, privacy-oriented browser, combined with its blockchain-based digital advertising platform, is reinventing the Web for users, publishers, and advertisers. Users get a private, speedier Web experience with much longer battery life, publishers increase their revenue share, and advertisers achieve better conversion. Users can opt into privacy-respecting ads that reward them with the Basic Attention Token (BAT), a frequent flyer-like token they can redeem or use to tip or contribute to publishers and other content creators. The Brave solution is a win-win for everyone who has a stake in the open Web and who is weary of giving up privacy and revenue to the ad-tech intermediaries. Brave currently has over 55 million monthly active users and over 1.5 million Verified Publishers. Brave Software was co-founded by Brendan Eich, creator of JavaScript and co-founder of Mozilla (Firefox), and Brian Bondy, formerly of Khan Academy and Mozilla.
For more information, visit https://brave.com/ or follow the company on Twitter @brave.
About Guardian
Guardian is a research company founded on the belief that personal privacy and transparency into network-connected devices are fundamental consumer rights. Guardian is building the world's most powerful data privacy tools to change the paradigm of your technology owning you, to you owning your technology. Guardian Firewall + VPN blocks attempts by apps to track the location of, and take data from, unsuspecting users. Well known for its ability to reverse engineer almost any app and device, Guardian's mission is to expose what's happening under the hood, to protect people from the dangers lurking – often unknowingly – in the digitized world. For more information, go to https://guardianapp.com.

This content originally appeared on Brave's Latest News on Brave Browser and was authored by Brave's Latest News on Brave Browser

Print
Share
Comment
Cite
Upload
Translate
APA
Brave's Latest News on Brave Browser | Sciencx (2023-09-23T07:48:47+00:00) » Brave and Guardian Team Up Again to Integrate the Brave Android Browser with Guardian Firewall + VPN. Retrieved from https://www.scien.cx/2022/05/24/brave-and-guardian-team-up-again-to-integrate-the-brave-android-browser-with-guardian-firewall-vpn/.
MLA
" » Brave and Guardian Team Up Again to Integrate the Brave Android Browser with Guardian Firewall + VPN." Brave's Latest News on Brave Browser | Sciencx - Tuesday May 24, 2022, https://www.scien.cx/2022/05/24/brave-and-guardian-team-up-again-to-integrate-the-brave-android-browser-with-guardian-firewall-vpn/
HARVARD
Brave's Latest News on Brave Browser | Sciencx Tuesday May 24, 2022 » Brave and Guardian Team Up Again to Integrate the Brave Android Browser with Guardian Firewall + VPN., viewed 2023-09-23T07:48:47+00:00,<https://www.scien.cx/2022/05/24/brave-and-guardian-team-up-again-to-integrate-the-brave-android-browser-with-guardian-firewall-vpn/>
VANCOUVER
Brave's Latest News on Brave Browser | Sciencx - » Brave and Guardian Team Up Again to Integrate the Brave Android Browser with Guardian Firewall + VPN. [Internet]. [Accessed 2023-09-23T07:48:47+00:00]. Available from: https://www.scien.cx/2022/05/24/brave-and-guardian-team-up-again-to-integrate-the-brave-android-browser-with-guardian-firewall-vpn/
CHICAGO
" » Brave and Guardian Team Up Again to Integrate the Brave Android Browser with Guardian Firewall + VPN." Brave's Latest News on Brave Browser | Sciencx - Accessed 2023-09-23T07:48:47+00:00. https://www.scien.cx/2022/05/24/brave-and-guardian-team-up-again-to-integrate-the-brave-android-browser-with-guardian-firewall-vpn/
IEEE
" » Brave and Guardian Team Up Again to Integrate the Brave Android Browser with Guardian Firewall + VPN." Brave's Latest News on Brave Browser | Sciencx [Online]. Available: https://www.scien.cx/2022/05/24/brave-and-guardian-team-up-again-to-integrate-the-brave-android-browser-with-guardian-firewall-vpn/. [Accessed: 2023-09-23T07:48:47+00:00]
rf:citation
» Brave and Guardian Team Up Again to Integrate the Brave Android Browser with Guardian Firewall + VPN | Brave's Latest News on Brave Browser | Sciencx | https://www.scien.cx/2022/05/24/brave-and-guardian-team-up-again-to-integrate-the-brave-android-browser-with-guardian-firewall-vpn/ | 2023-09-23T07:48:47+00:00
https://github.com/addpipe/simple-recorderjs-demo